Read Time:
8
minutes
The focus of companies today — from SMEs to global enterprise — on digital transformation and business outcome realization starts with IT asset management (ITAM) and discovery. According to MarketWatch, the IT asset management market will grow at a CAGR of 11.25% between 2022 and 2028. This is one of many indicators showing how IT asset management powers the engine of IT operations and propels organizational business outcomes.
To understand how facts can support such a presumably bold statement requires an understanding of ITAM. The specifics of the makeup of IT assets may vary between SMEs, enterprises, and individual organizations. (For more information, see our Guide to IT Audits.)
This doesn't change the fact that every organization is bound by the same level of importance that IT asset management carries in a digital, hybrid-cloud, and distributed world. This is because the focus of every SMB and enterprise is on improving business operations, competitiveness, and outcomes. Achieving those three things requires a culture of innovation built on standardized, consolidated, and streamlined access to products and services for internal end users and external customers.
What Are IT Assets?
IT assets include all IT-related networking hardware (servers and switches), PCs, desktops, mobile devices, software, and cloud devices. This includes any device or component that supports storing, managing, controlling, displaying, or transmitting data. But this definition of IT assets is constantly expanding in a changing digital world.
The terms "hardware" and "software" take on broader meanings in the era of cloud and digital transformation, which is built on everything as a service (XaaS). As the delivery of technology changes to meet broader needs and IT assets follow suit, IT asset management becomes more important and challenging for SMBs and enterprises.
IT hardware has long since expanded beyond servers and desktops to a mobile workforce using laptops and other mobile devices (tablets, smartphones, etc.), whether they be corporate-owned or BYOD. The on-premise data center is still vital for many organizations where bare metal servers and applications rule. But the hybrid-cloud model has expanded that to virtual machines.
The now-ubiquitous nature of IoT has given rise to IoT platforms comprising hardware, software, user interfaces, networks, and sensors. Cloud services that replace on-site hardware with virtual machines, along with the replacement of on-premises applications with SaaS, also count as assets in both a public and private cloud scenario.
Management becomes even more convoluted with organizations using services that include IaaS, PaaS, and SaaS. Organizations can classify digital information as an IT asset via databases and subscriptions for the use of licensed data.
Every IT asset has its own lifecycle where management is critical to its performance and reliability while also being vital to business operations. The parameters of this life cycle include the following five stages:
Planning: Determines the type and use of assets within critical business operations, which includes their cost and benefit analysis, procurement process, and dependencies
Asset acquisition: Focuses on procuring the assets through a license, lease/purchase, or internal build
Integration: Integrates IT assets into the IT/business operations via install, additional component integration, access management, and permissions
Asset maintenance: Manages an asset's use and operations including any upgrades and repairs that impact its operation and value to end users via workflows and risk/support cost reductions
Asset retirement: Determines the point and reasons for decommissioning an asset based on specific operational thresholds. For example, this can include any replacement resources, license terminations, updates, or configuration records.
IT ops sees these stages as the basic representation of the complex process known as IT asset management. Understanding how to develop best practices for this changing process requires a closer look at ITAM in the modern enterprise.
What Is IT Asset Management in the Modern Enterprise?
Scale is the primary differentiator with IT asset management across an SME or global enterprise since every organization gains the same benefits. Every enterprise must have a way to bring order to business practices by tracking, managing, and organizing its IT assets. This brings a single repository or single source of truth to IT assets that improves utilization, eliminates waste, increases efficiency, and lowers costs (CapEx and OpEx) across the organization.
There are countless benefits to IT asset management for an SME or global enterprise that improve the business' market position, resilience, flexibility, innovation, and financial strength. These can fall under several broader benefit areas that reinforce each other in multiple ways.
Cost and Risk Reduction
ITAM supports cost reductions via the reallocation, decommissioning, replacement, or elimination of underutilized assets while enabling efficient purchase and deployment strategies based on business-outcome needs and other tangible ROI factors.
The ability to manage every IT asset and its dependencies across the entire lifecycle enables an organization to lower risks and make strategic decisions to keep the business competitive and capable of innovation. ITAM reduces business risk by ensuring that all assets are updated, working properly, and integrated where it brings business value and higher performance.
Governance, Compliance, Security, and Continuity
The constantly changing nature of IT assets within an organization means there must be a constant process of discovery to inform the different stages of the management process and all dependencies that flow between assets. The result sets the stage for governance where improved security policies, access, and cost reductions meet business outcome and end-user needs.
Improved governance, compliance, and security lead directly to other benefits such as business planning, risk reduction, and continuity based on assets and the services they make possible. That can include backup and disaster recovery planning and accurate lifecycle and maintenance predictions.
Security in the digital age is a primary concern for every organization, and IT assets can pose a plethora of potential ingress threat risks. ITAM benefits organizational security in many ways, such as compliance and regulatory enforcement and improvement via security policy alignment.
A major source for guidance on increasing ITAM security across the organization includes the US National Institute of Standards & Technology (NIST) cybersecurity guide for ITAM. The broader NIST Cybersecurity framework (which includes ITAM security guidelines) has been adopted by the Israel National Cyber Directorate (INCD) Cyber Defense Methodology.
Additional ITAM Benefits
There can be many benefits to implementing ITAM best practices bolstered by comprehensive mapping and discovery. While ITAM generally brings cost and productivity optimization, the following benefits emphasize these attributes:
Sets the stage for increasing business productivity through the strategic implementation of new technologies as it simultaneously limits the overhead costs of managing an IT environment
Standardizes assets so they all work collaboratively and consistently across the organization in ways that increase productivity and efficiency while lowering business operational costs
Enables licensing and subscription compliance of cloud spend and software licenses
Tracks and lowers total cost of ownership through tangible value creation and the monitoring of condition, maintenance costs, and support across the lifecycle
Although ITAM and the information technology infrastructure library (ITIL) serve different purposes (such as the configuration management database (CMDB) with ITIL), they are complementary and expand the asset view. Organizations can see how ITAM and ITIL bring costs and operational efficiencies to the help desk and lifecycle tracking. Their collective use also benefits asset locations, warranties, licenses, contracts, performance, and usage pattern visibility.
While these asset management benefits are clear, there are challenges that stand in the way of that clarity. Fortunately, a complete asset strategy can mitigate these challenges and increase the overall effectiveness of IT asset management.
IT Asset Management Challenges
ITAM brings several challenges due to IT asset complexity and constant changes across an organization. The first of these is keeping up with all the assets via efficient and complete discovery. Although IT teams within an organization may be the originators of most assets used, that doesn't ensure a clear picture.
Missing Asset Documentation
IT members come and go, and without a clear management policy and documentation, knowledge of assets and their integrations can become murky or even lost. Organizations can make matters worse if they don't have documented processes for third-party vendors working on asset and project integrations.
Asset Discovery
Asset discovery brings its own challenges to asset management if a business doesn't have the right solutions in place for finding and cataloging each asset and its dependencies. The goal is to have informed management and monitoring that ensures optimum business operations. According to CIO Dive, each enterprise department has an average of 200+ applications. This translates to thousands of applications and other IT assets across a global enterprise.
Shadow IT and Software Decay
Shadow IT brings its own risks and challenges to IT asset management. Every organization has departments and end users that introduce applications into the ecosystem without informing IT. These assets can gain dependencies over time that are also hidden from view. IT requires the right infrastructure and application mapping tool to discover every dependency across a hybrid or multi-cloud environment.
Software decay can happen with proprietary on-premises or cloud-based software, where the code slowly decays or degrades in performance and responsiveness because of poor updates or operating system changes and lack of upgrades. This can be an entry point for cyberattacks and regulatory compliance violations that result in downtime, along with lower productivity, bottom-line income growth, and EBITDA.
The focus of IT asset management must always be on creating a single-pane-of-glass view of all assets and their lifecycle. A comprehensive set of ITAM best practices will enable every organization to maximize its benefits.
ITAM Best Practices
Effective IT asset management requires a unified approach to the intersection of people, processes, and technology that is governed by a set of identified best practices.
Designate an ITAM Leader
Collaboration and cooperation of people across the enterprise starts with leadership in the IT department. The CIO or CTO can select an ITAM team leader who will be responsible for IT asset management governance and reporting.
They should be someone who can collaborate across the organization to support the change management initiatives that arise with IT assets and process changes affecting end users. This person should be the lead in a cross-departmental IT asset team of representatives that provides insights into department operations, asset use, and upcoming needs that impact IT asset lifecycles and dependencies.
Use an Automated IT Asset Mapping Tool
The use of an Automated IT asset discovery tool and process is paramount to ITAM transparency and efficiency. The discovery and mapping tool should be comprehensive and standalone from any IT asset management tool since many vary in their asset focus. It's also ideal to have a comprehensive mapping solution that can integrate with asset management tools and other processes that bring more granularity and performance improvement to ITAM.
Create an IT Inventory Database
Establishing an IT inventory database that includes IT asset inventory and dependencies enables an organization to have a single source of truth that can constantly change via updates. IT leaders must make the separate decision whether to use a CMDB to manage configuration items (CIs) for ITIL, along with IT assets covered under ITAM, and unify data from multiple sources.
Strategic inventory planning supports the inventory database by enabling budget development and spending in a centralized way that benefits the organization's business goals. IT departments can eliminate ghost assets (missing or stolen assets) using updated data from the ITAM inventory database.
Start with Mission Critical Assets
It's often best to start with an ITAM pilot project to test the process and then expand it to other assets. This starts with defining critical assets via the use of the discovery and mapping tool. Organizations can then identify the current point of the asset within its lifecycle and determine its remaining life, potential upgrades, and end-of-life processes including replacement if needed.
Integrate ITAM, Governance, Compliance, and Service Desk
Another important best practice is to maximize the use of collected ITAM data for service desk integration to reduce tickets and automate self-service functions for qualifying requests. This also supports the change management process associated with ITAM across the organization by supporting help desk procedures.
Organizations should integrate ITAM with governance and compliance to support audits and avoid compliance violations. It's also a best practice to develop a standardized process for asset retirement and use ITAM to plan maintenance and upgrades. ITAM provides a means for continually gathering IT and end-user feedback to improve the process while increasing efficiency and integration.
How Faddom Helps IT Asset Management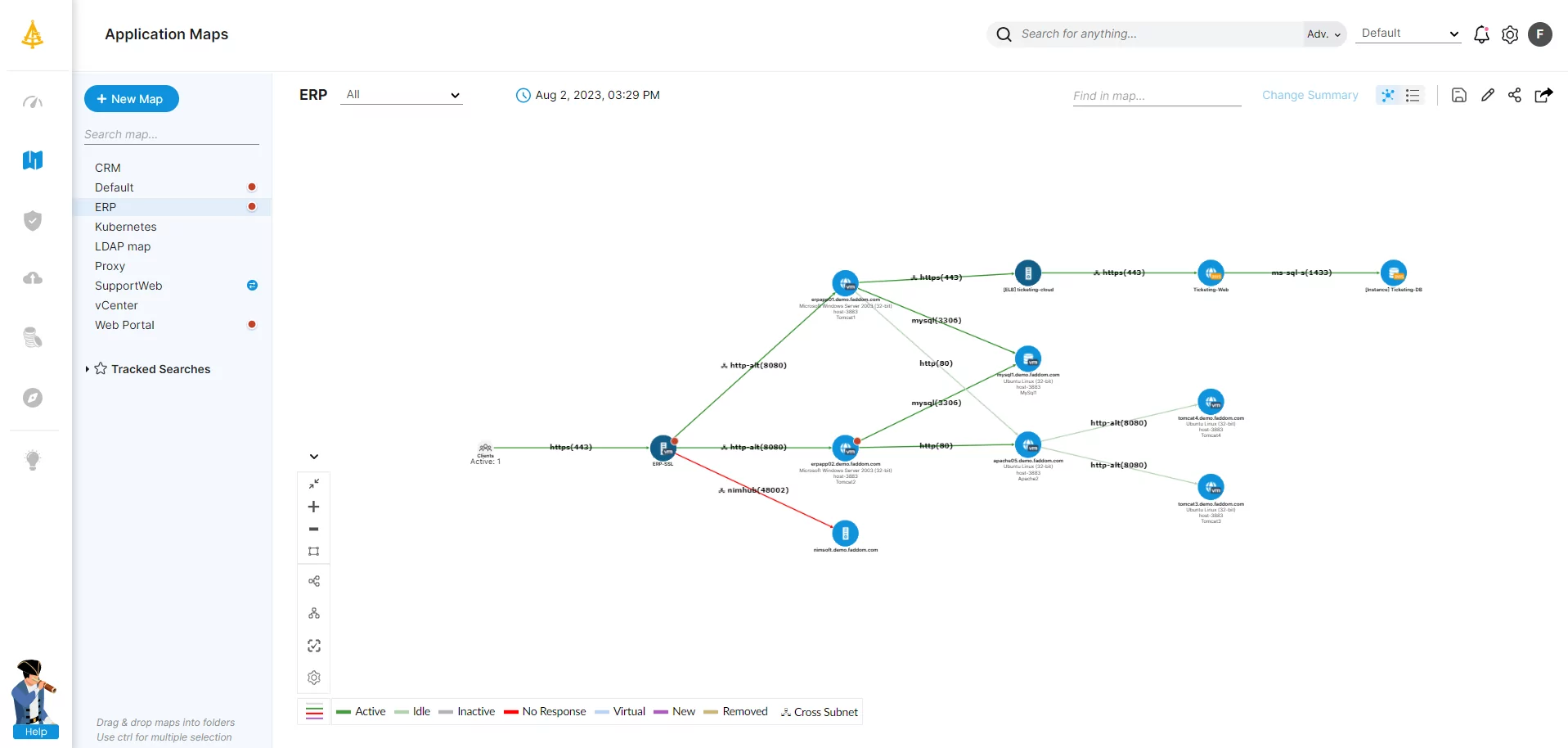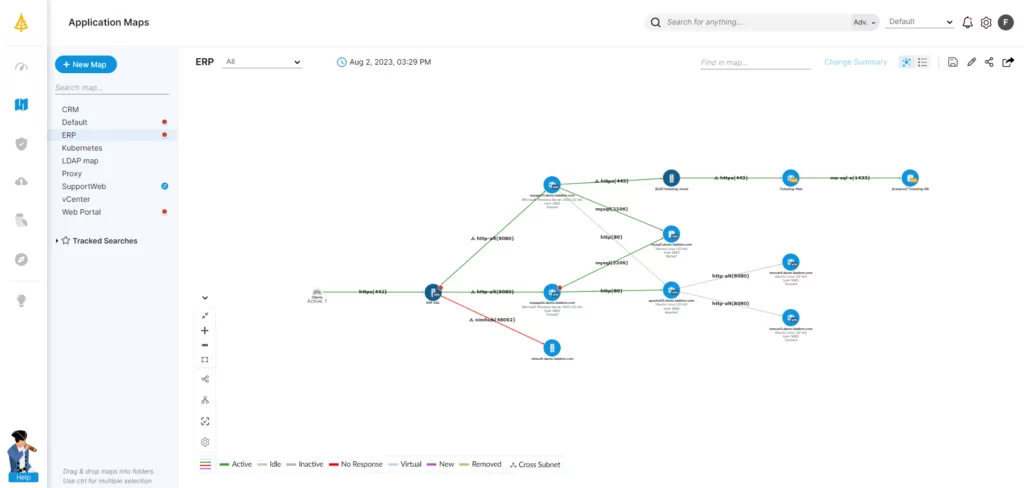 IT asset management is a framework and process that constantly changes as assets, the business, and operational needs change. This makes it vital that organizations understand this aspect of change and how it impacts the SME and global enterprise in profound ways.
Organizations can only build effective IT asset management on the foundation of a detailed and granular view of all assets and their dependencies. This makes the choice of an agentless, cloud-based IT infrastructure and application mapping software solution the key to an organization's ITAM strength. Faddom helps organizations worldwide with IT asset management by mapping their entire hybrid IT environments — both in the cloud and on premise — in as little as one hour.