Read Time:
6
minutes
Most businesses maintain a manual inventory of their components and tools in order to keep track of their assets. The list is only updated when an asset is added, removed, or changed, and it is usually kept in a shared document like an Excel spreadsheet.
When an organization's IT structure is simple, this method of discovering IT assets may work well enough. However, as the organization grows and its use of IT assets expands, tracking assets becomes more complicated, requiring a different approach. Having a complete awareness of all assets through ongoing IT asset discovery helps to streamline operational processes and to keep IT assets secure.
This article examines the process of IT asset discovery, its benefits, and recommended best practices. (For more information, see our guide to it asset management.)
What is IT Asset Discovery?
IT asset discovery is the process of discovering, classifying, and managing an organization's IT assets. In addition to on-premise servers, today, these assets may also include the cloud, virtual servers, and mobile devices. Organizations keep track of their network's active and inactive assets through IT asset discovery.
IT asset discovery helps IT managers to create data sets that provide essential information about who is logged in to which device at any given moment, which devices require rebooting, which programs are installed on a device, and which software licenses need to be renewed. Because of this, IT asset discovery—frequently included as a component of a specialized ITAM solution—is crucial for safeguarding a business' IT assets.
The Benefits of IT Asset Discovery
IT asset discovery provides a number of benefits, most importantly asset and report harmonization, streamlining and simplification of assets, and enhanced compliance and security.
Harmonized Assets and Reports
IT asset discovery combines data from several tools into a single database. In addition to providing reports—like device utilization statistics and software licensing compliance data—the database also contains up-to-date system information and a history of software or hardware installations.
Such information can help in eliminating unused and duplicate assets, and reduce the time required to handle any network issues. It can also reduce the volume of work required to execute an IT infrastructure upgrade or a network audit, since redundant software deployed in the network is periodically identified and eliminated. Decisions about purchasing IT assets may be made with relative ease, since current capacity and needs are known.
Streamlined and Simplified Asset Management
Automatic asset discovery speeds up IT asset management's procurement and reporting components. For example, identifying licenses for unused software products helps businesses avoid unnecessary purchases and allocate that money to more crucial business needs. Thus, automatic IT asset discovery helps organizations optimize their asset management processes.
Compliance and Security Benefits
In this digital age, assets may be added, deployed, and withdrawn in rapid cycles. Combined with the dispersal of IT networks across cloud, virtual, mobile, and on-premise environments, this increased pace of IT asset transformation frequently puts pressure on businesses to frequently adopt new protocols. Such a rapid pace of change and distributed network architecture may create blind spots that compromise asset security.
Visibility Facilitates Security
The visibility required to prevent intrusions into a business' IT assets is provided by IT asset discovery. As such, IT asset discovery aids in ensuring compliance with corporate security standards in two important ways. Firstly, it seizes unlicensed software, which frequently serves as a backdoor for phishing attacks and security flaws. Utilizing this knowledge facilitates efficient management of patches. Secondly, it uncovers malware that may be covertly installed on external devices utilized by the company. This reduces the most significant risk associated with using the bring-your-own-device (BYOD) approach.
Software License Validity
To ascertain whether or not the commercial implementation of their product is licensed, software providers employ various methods. Using unlicensed and non-compliant software can cause unsuccessful external audits and result in expensive fines. Fortunately, software license validity is routinely checked as part of IT asset discovery. By monitoring all software applications, IT asset discovery enables the discovery of illegitimate applications, thus allowing a business to take a proactive approach to software licensing and compliance.
IT Asset Discovery Methods
There are numerous solutions available for discovering IT assets in a network, all of which employ one of two basic methods: passive asset discovery, or active asset discovery.
Passive Asset Discovery
A prerequisite for a passive asset discovery technique is the ability of every device in a business to send syslogs. A log management program then stores these and continuously refreshes the live data to generate an asset.
The passive asset discovery method offers more coverage and uses less bandwidth than its alternative (active asset discovery, see below.) It enables businesses of all sizes to produce assets using current and archived data. For instance, a company with multiple locations can sync old logs from its local syslog to a central repository. This allows the network's main office to spot security gaps across the organization's branches.
Active Asset Discovery
The active—or standard—asset discovery method involves pinging every device that interfaces with the network. Because it demands live activity, archived processes or functions cannot sync or be detected. Active asset discovery uses more bandwidth than passive asset discovery, and typically requires substantial effort to set up.
Active asset discovery is a complicated method. Since it permits extensive bi-directional network queries, there is potential for harm and network congestion.
Anatomy of the IT Asset Discovery Process
There are two methods available to discover IT assets: manual and automatic. While automatic asset discovery systems extract information about the assets into the relevant software agents, manual asset discovery systems typically require humans to submit data about assets.
An asset discovery tool discovers IT assets by following data flows between the organization's processes. Here's how that might appear in diagram form:
Figure 1: Data flow in an organization (source: Maddevs.io)
The process of discovering IT assets is shown in Figure 2, which follows the data flow described above:

Figure 2: IT asset discovery process (source: Maddevs.io)
Best Practices
For effective IT asset discovery, a business should adhere to certain best practices. Three key best practices are detailed below.
Create and Implement a Discovery Strategy
A roadmap should be completed, and should include the organization's chosen asset identification process. Essential details—like which assets need to be tracked and found—should be included. By doing so, assets will be recorded correctly and consistently, and future assets will be added according to the same standards.
Implement an Inventory Management Framework
The practice of locating, organizing, and storing a company's IT assets is known as inventory management. An inventory management framework simplifies the asset discovery process, making it easy to identify and classify all IT assets. Best practices for inventory management include the following:
Use consistent names for comparable assets. While nomenclature can seem insignificant, failing to follow best practices complicates reporting and might result in expensive mistakes. Using an inventory management tool that automatically normalizes all data may be helpful.
Tag all assets with all pertinent data, including owners, departments, locations, and other compliance definitions. This ensures direct selections and accurate reports.
Define a lifecycle for the business' IT assets and automate updates accordingly.
Select an Appropriate Discovery Tool
The effectiveness of an asset discovery approach hinges on the selection of appropriate discovery tools for the business in question. When choosing an asset discovery tool, ensure that the following components are offered:
Automation
Centralized database
Monitoring and alerting functions
Reporting and analysis
Continuous updates
Meet Faddom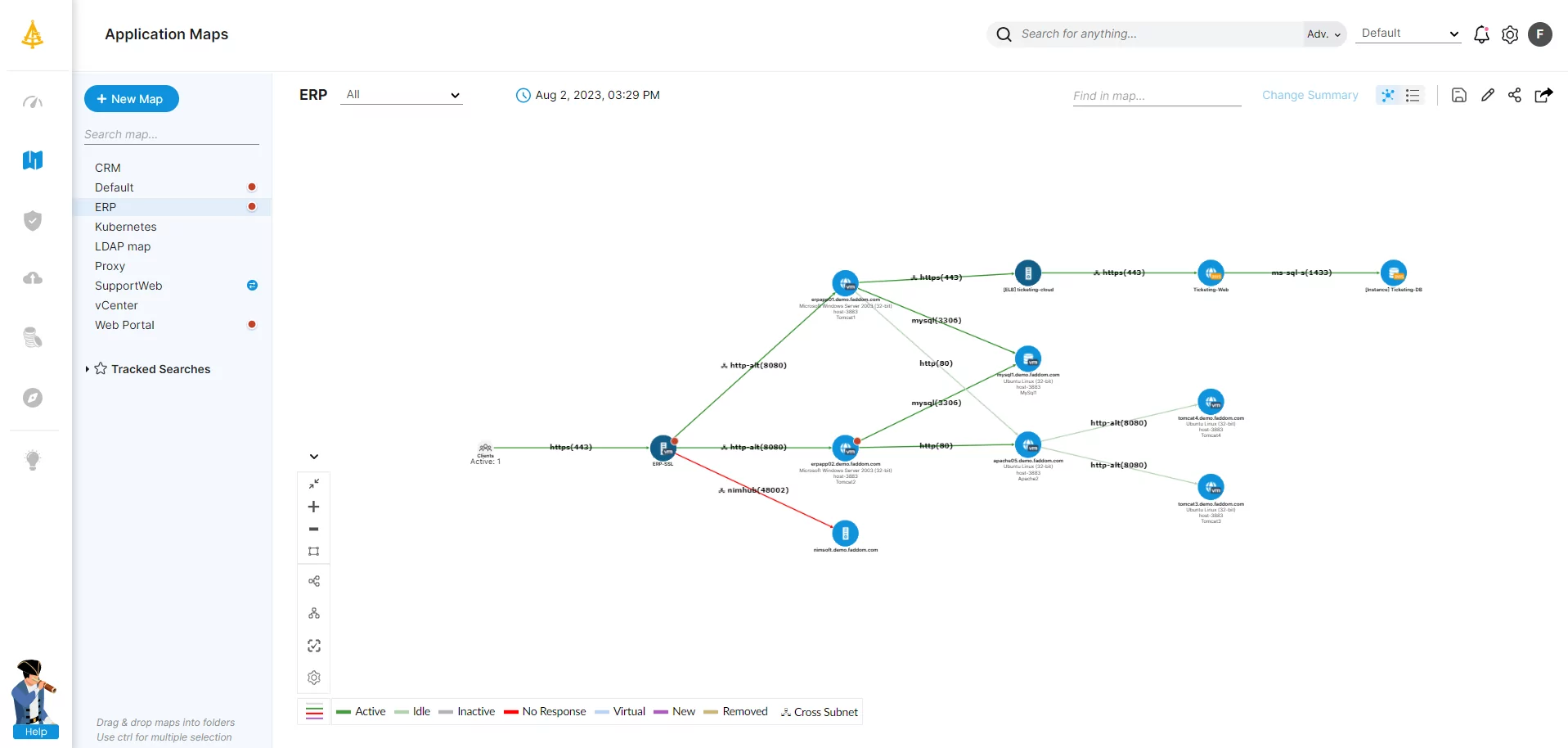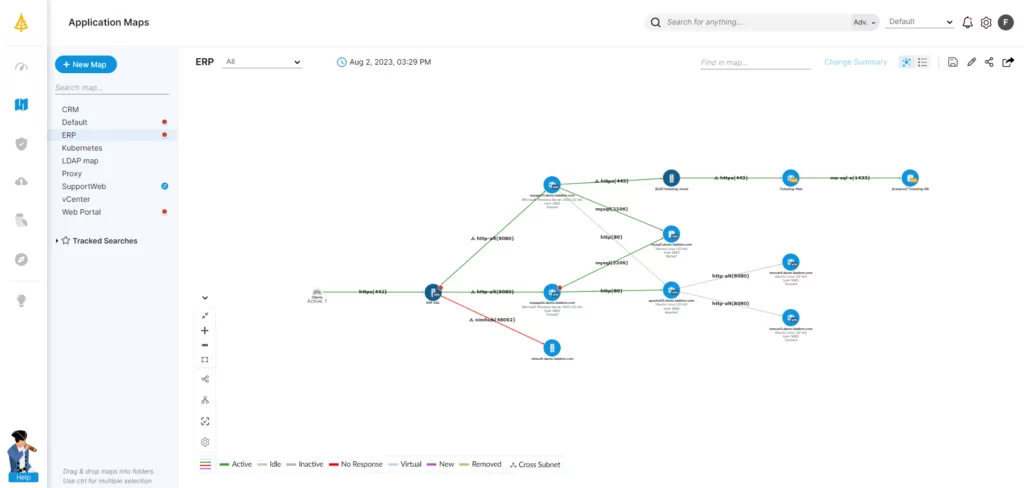 Effective IT asset discovery is a prerequisite for superior IT asset management. Although there are two methods for discovering IT assets, the passive approach is preferred because it covers a more extensive scope and consumes less bandwidth. Organizations can benefit from IT asset discovery in various ways, such as asset and report harmonization, simplification of asset management, and protection of compliance and security parameters. Best practices for effective asset discovery, such as implementing a solid inventory management framework, ensure the full benefits of IT asset discovery may be obtained.
For a detailed and granular view of all your assets and dependencies, an agentless, cloud-based IT infrastructure and application mapping software is essential. Faddom helps organizations worldwide with IT asset management by mapping their entire hybrid IT environments—both in the cloud and on-premise—in as little as one hour. Start a free trial today today!