Read Time:
6
minutes
Not all software applications are created equal. Since software applications play a critical role in everyday business, productivity and performance may be impaired if a software application is not functioning optimally. Many applications are a complex mesh of software, libraries, dependencies, and underlying infrastructure, which makes identifying their deficiencies challenging.
Application assessments are essential for organizations since they facilitate an in-depth understanding of a specific application's operations. Performance insights from these assessments help organizations to make critical decisions regarding strategic initiatives such as cloud migration, cybersecurity posture, software consolidation, and staffing levels.
Understanding which applications perform optimally—and which require adjustments—may also inform decisions about which aspects of infrastructure require digital transformation. If software performance improvements are needed, productivity metrics are affected. Visibility into the entire scope of operations (including application assessments) highlights areas where cost reduction and streamlined staffing can improve business agility. Security posture benefits from such assessments through the identification of high risk areas that could lead to outages or security incidents.
In order to reap these benefits, a proper and successful software application assessment must be executed. This article will discuss the essential elements of an application assessment, potential challenges, and how businesses can overcome these challenges.
What is an Application Assessment?
Application assessments offer a complete picture of software, from creation right through to implementation and deployment within the production environment. A comprehensive review starts with assessing how well an application is constructed. An application's components—including third-party libraries, modules, dependencies, and configuration—all significantly impact its overall quality.
Why What's Under the Hood Matters
Poorly constructed applications can suffer from degraded performance and stability issues. They may also introduce security issues due to vulnerabilities or misconfigurations. Inefficiencies in design may require higher maintenance costs, reflecting the need for manual processes or periodic code fixes to remain operational. In the worst cases, poorly designed applications that provide services throughout the organization may cause outages in related systems that rely on the application, decreasing uptime and performance metrics.
Beyond Code
When discussing application assessments, one might assume that only the code needs to be reviewed. However, a complete application assessment analyzes a combination of the code itself, how the code is implemented, how it is deployed, and the way in which it is integrated into its environment. Comprehensive assessments must also consider the hardware infrastructure that supports the software. Only when all this information is considered as a whole can an application be evaluated holistically.
Application Assessment Process
Building a broad-based application assessment requires the development of a plan that contains the entire application assessment scope. Multiple teams should be involved to ensure that nothing is missed in the review process. The result is several data streams that must be combined and understood to create the full picture of an application. Looking at how data streams relate to one another is essential to avoiding a myopic view of the information which may lead to missed insights.
Automated Code Testing is Vital
Automated testing of the application and its infrastructure must be carried out. Using SAST (static application security testing,) DAST (dynamic application security testing,) or SCA (static code analysis) scans against an application can help to reveal security vulnerabilities and code issues.
Hardware Testing Completes the Picture
Asset identification tools scan cloud and on-premises networks for resources utilized by an application, identifying what assets exist and their configuration. This is crucial to a holistic assessment of any software, especially in complex environments such as the cloud.
Accurate Documentation is Essential
As business growth accelerates, new endpoints and resources are added. Too often, documentation of these changes falls behind. Even an extensive assessment may miss core components vital to operating the application if documentation fails to capture current resources adequately. This may include both undocumented components or components that exist in a different environment from the application itself. Without accurate documentation, the assessment cannot accurately portray the environment, and thus may generate incorrect conclusions.
Automated asset identification ensures that outdated or missing documentation is no longer an obstacle. It creates an accurate point-in-time assessment of all operational components of an application, such as servers, data stores, network connections, and hardware configurations. Crawling deep throughout on-premises and multi-cloud environments to identify dependencies and configurations helps organizations to create an accurate profile of their environment.
Application Assessment Objectives
The objectives of any application assessment are to analyze an application thoroughly and discover areas for improvement. When assessing software implementation, there are generally two primary goals that an organization is pursuing. The first is evaluating the current software implementation for security or optimization in order to identify areas for improvement with the application. The second possible goal is shifting existing on-premise applications into the cloud. This objective is more complex than the first, as it requires an understanding of future mappings of assets and the determining of optimal paths to use in a cloud transformation (such as lift and shift, rearchitecting, rebuilding, or refactoring.)
Scope and Frequency
The objective partially determines the scope and frequency of an application assessment. There is no fixed process for defining scope and frequency; this needs to be derived from the objectives.
An application assessment may be a one-time event with a fixed scope when determining a cloud migration. The outcome of this type of assessment will be a recommendation on the type of cloud transformation that should take place, or a decision to have the application remain on premise.
When assessing an application in production, the assessment frequency may be multiple times a year. Once annually, an assessment with a broader scope may be conducted, whereas the remainder of the follow-up tests (after the first application assessment) will be more tightly focused on areas of concern that were initially discovered. The retesting process may focus on determining the current effectiveness of, or progress made in, those areas of initial concern.
Identify Key Stakeholders
Assessment of software cannot be conducted in a bubble. Like software development, it requires cross-team collaboration and information sharing in order to understand the scope and nuances of a project. Key stakeholders may include application owners, users, operational teams, and project champions and managers.
Application Owners
Application owners have intimate knowledge of the application, and may include programmers, architects, and other technical contributors.
Users
This includes representatives of product users who may be affected by the testing. Users can provide information on common workflows and high or critical usage times—essential information for reducing the impact on the workforce during testing.
Operational Teams
Cloud and on-premises teams that support the operations of the application constitute this group. They can help to identify possible impacts on performance or operations caused by testing, and provide important information about design versus implementation. Sometimes the design differs from the implementation due to technical, labor, or time constraints which force workarounds that may not be reflected in the design.
Project Champion and Project Manager
The project champion is a vital stakeholder, since they act as the project sponsor for the organization. The project champion must be someone with the capacity to rally resources to the assessment, and the clout to drive the project as a whole. Without their support, the application assessment can run into bottlenecks or resource blockers that prevent its timely completion or stop it dead in its tracks. Since this role is complex and multifaceted, the champion is usually backed up by a project manager who helps to establish scope, objectives, and priorities. The project manager helps to coordinate resource management, ensuring that the right teams and individuals are available for the project when needed, contributing to timely completion of the project.
Application Assessment Deliverables
At the end of an engagement, it is essential to translate the collective findings into shareable deliverables. Deliverables that could be created based on the data discovered include a findings meeting, assessment report, action plan, and dashboard.
Findings Meeting
In these meetings, one of the assessors will walk key stakeholders through the assessment results, explaining findings and recommendations. Attendees will discuss the methodologies and outcomes of the review, and develop a next-steps plan with operational and implementation teams to determine and prioritize the next stage(s) of the process.
Assessment Report
The assessment report contains summarized information, highlighting key findings and recommendations.
Action Plan
Any critical findings from the application assessment will be included in the plan, along with recommendations for remediation.
Dashboard
The dashboard contains in-depth data gathered from testing. As it may include sensitive information, access should be limited to internal users who require a deeper understanding of the data. Information of this nature is helpful to engineers and technicians looking to discover root causes when troubleshooting or remediating findings.
Manage Expectations
From the outset, it is crucial to communicate to individuals involved in creating or maintaining the application that areas requiring remediation will likely be discovered. These discoveries are not an assessment of the quality of the team, code, or implementation, but instead a neutral evaluation. Sometimes groups find undergoing evaluations of their work to be emotionally challenging, especially if grading is included in the process. In this instance, it can help to reinforce that the process does not place blame, but rather determines if there are areas that require optimization. This is an important management step in order to reduce any internal resistance to the assessment process.
It is also crucial to prepare critical stakeholders for action items stemming from the assessment. Rarely is nothing identified as an area for improvement. Individual findings will need to be evaluated in order to determine if appropriate business cases exist for resolving them. Those with a reasonable business case will be prioritized, and timelines created to set goals and expectations for their resolution.
Empowering IT Assessments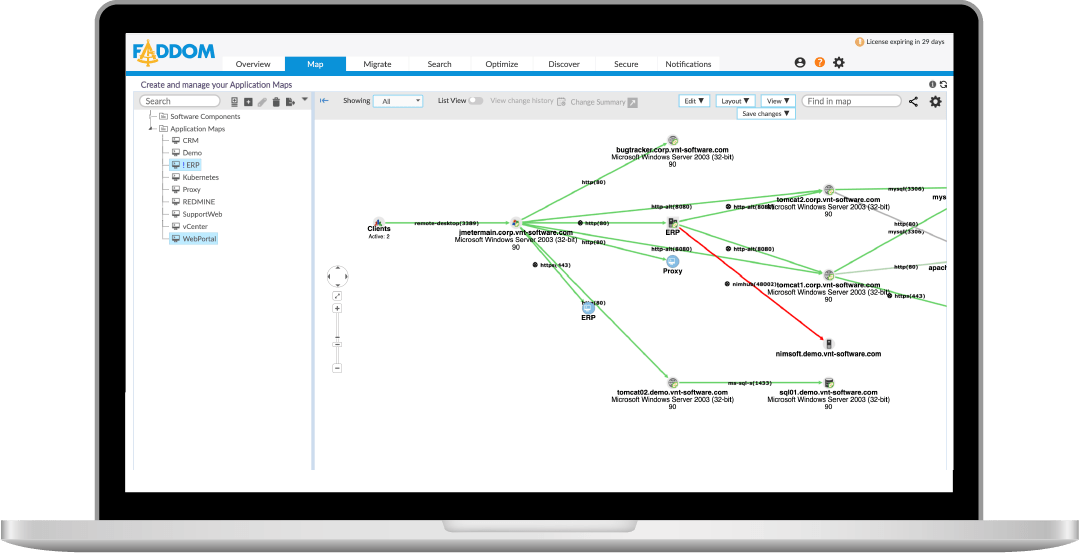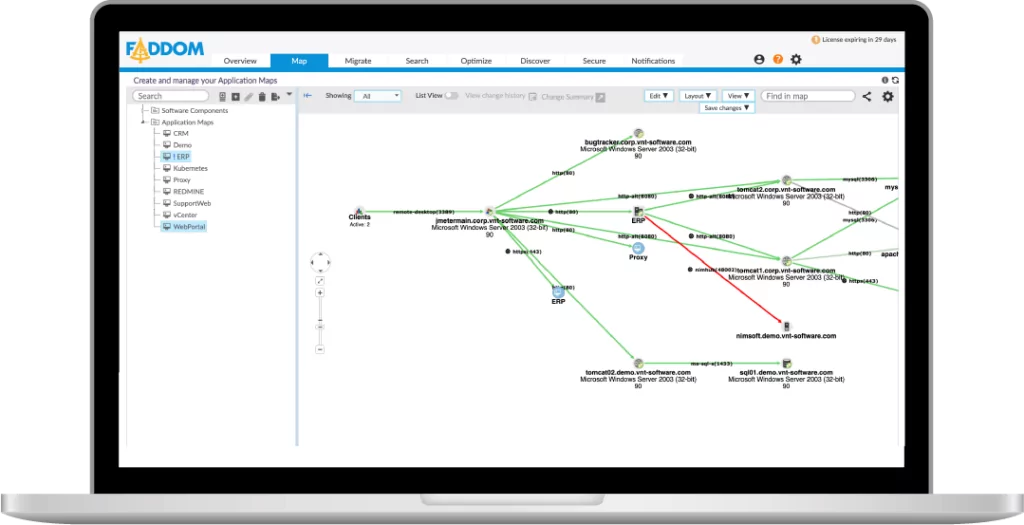 Conducting an IT application assessment requires support across the organization, and expertise in all areas from application development to operation. Sometimes, in the course of assessment, documentation may be found to be outdated or inaccurate, which can slow or halt the process, or create incorrect findings if not noticed and remediated.
Faddom's application dependency mapping helps businesses to overcome this challenge by rapidly gathering information about underlying application dependencies. From mapping out the hardware infrastructure to identifying required libraries and custom codebases, Faddom produces and validates the information required to ensure that any IT assessment begins with full and accurate information.
Try a free trial of Faddom at the right today and start mapping your application environment in less than an hour.