Read Time:
7
minutes
It's never been more important for organizations to develop seamless workflows between people, information technology (IT), and operational technology (OT) for tangible business outcomes. While digital transformation relies on data flow through complex systems, it's nearly impossible to track business services throughout the enterprise.
According to a Forrester/Celonis survey of over 800 business execution decision-makers, 83% said their business processes are very connected and dependent. That's why IT service mapping and application mapping are foundational to understanding the intertwined nature of IoT, cloud, applications, devices, and network infrastructure. (For more information, see The Complete Guide to Application Mapping.)
This post explains the critical nature of IT service mapping for a competitive business in the digital age.
What is IT Service Mapping?
Organizations and IT need a complete understanding of how applications and systems deliver internal and external business services. This includes a detailed view of the infrastructure that governs IT, OT, and the services they deliver, plus how they may overlap. Organizations must be able to see how data flows to and through applications/systems while also showing how people use them for business process fulfillment via service mapping.
The goal is to define business services across the enterprise via a map that provides a visual or graphical model of all system/process connections and how they drive business services for:
Greater visibility across the enterprise
Resilience through business continuity and regulatory compliance
Detection and correction of anomalies
Development of KPIs and metrics like average transaction duration, requests per minute, and errors per minute
Understanding the role of all these features enables an organization to visually assess the health status of each service for improvement.
The great challenge is in mapping the complexity of converging IT systems used for data-driven computing and OT systems used for event and device monitoring into a single service view. Even though both systems use applications, cloud, and network infrastructure, they traditionally operate in silos. This challenge makes it imperative that organizations understand how service mapping enables a clear view of the many distinct and overlapping services that govern new market, product, and service growth as well as business:
Efficiency
Agility
Risk
Management
This collection of attributes is foundational to an organization's ability to remain competitive and resilient in changing business climates.
The complete service map of every device, application, and configuration profile includes both internal (backend) and external (customer-facing) services. This traffic-based discovery requires ongoing monitoring and updating as underlying platforms, processes, systems, and technology constantly update and change.
Service mapping enables an organization and its IT department to:
Deliver a service
Understand who delivers it
Identify who consumes it
While these are critical to an organization internally and externally, it only represents the broad view of the many benefits that service mapping can provide.
Benefits and Use Cases of Service Mapping
Service mapping can only be useful if it's based on a commonly accepted definition of a service. Services are anything that delivers value to end users or customers without the burden of costs and risks. In an organization, that can be anything from email to complex services that span product management, marketing, sales, finance/back office, operations, and customer support.
Business services go far beyond applications to the delivery chain. That includes bare metal/VM servers, database configuration, storage, and networks along with on-premises and cloud environments that support them. Providing the service without flaws requires organizations (and IT in particular) to have a holistic view of how these components integrate to deliver the service.
Having this complete graphical map delivers many benefits, including a complete understanding of how an organization's business services are delivered.
Organizations also gain improved operations management through inventory and infrastructure relationship knowledge across hybrid environments (on-premises and cloud) to deliver more reliable services and innovate more frequently by:
Meeting SLAs and uptime
Improving mean time to resolution (MTTR)
Service mapping additionally delivers improved risk management by automating processes to proactively detect, track, and eliminate security and audit compliance failures while delivering better backup and disaster recovery. The visibility gain can be used to optimize asset performance to pinpoint areas of service underperformance, such as system inefficiencies or manual processes that keep humans from doing higher-order work like improving or adding new services.
A graphical service map enables business-capability mapping (business-process mapping) to improve understanding of what the organization does best and the possibilities for expanding those capabilities. Organizations can also manage their portfolio to ensure the right mix of services to match their business strategy with budget constraints.
There is also the benefit of relationship management to enforce communication across all levels of the enterprise for a common understanding of:
Service needs, expectations, and experiences
Value planning
Service quality
Customer experiences
Business analysis brings a common understanding of organizational and customer improvement options to all stakeholders as well. Plus, improved product and service architecture management allows for an organization to maximize resource activities and flow for lower costs, top- and bottom-line growth, and efficiency.
Lastly, a graphical service map ensures that service configuration information is available at the right times and places through visualization and documentation to enable improved analysis of the service's impact, triggers and outcomes, risks, and throughput capacity and availability.
Successful service mapping does more than discover and identify critical components and map them into services. The resulting visual graphic document creates service, source, entity, and attribute relationships that have a major impact on efficiency, security, the bottom line, and market growth.
Service Map Creation, Use, and Lifecycle Process
The service mapping process can be complex or simple depending on the organization and its needs. But every service mapping process has the following seven steps that should be followed:
Create a cross-functional team consisting of people who manage and depend on different components of the service along with IT admin knowledgeable about the systems connected to delivering the service.
Define the mapping template, which should include:
– Map orientation
– Mapping structure (hierarchical maps, mind maps, or other preferred structures)
– Naming conventions
– Additional standards for each service
Determine the level of detail to be captured by the service map to support service management practices while avoiding unnecessary management and communication complexity.
If all services are not to be mapped (ideal scenario), select specific services for mapping based on:
– Top customer-facing and revenue-generation services
– Those services needing major near-term changes
Choose the right service mapping software.
Since the sources for the components of a service can be found in many sources, choosing the right tool must be a balance of costs and optimum efficiency in discovery and mapping ability. There are many tools available for this process that fall into on-premises software or cloud-based software solutions.
These tools are either agent-based or agentless asset discovery tools. Agent-based software installs a software agent for discovery across each system while agentless discovery tools forgo installing software agents at the endpoints. There are many benefits of agentless versus agent scanning, including cost efficiency, simplicity, performance, and scalability.
The criteria for choosing the right discovery tool depends on many factors from the business structure, size, intent, and budget to the software's ability to discover and visualize services across:
Hybrid cloud environments/architectures (on-premises and cloud)
Network architectures
Multi-cloud environments
Bare metal servers
VMs
Containers
Microservices
APIs
IoT devices, and more
One important aspect is the service mapping software's ability to integrate with application mapping tools, which is critical to a complete view (as will be explained later).
6. Ensure that the map presents the information in a way that is easily understood across IT and business leaders via techniques like dependency structure matrix (DSM) and hyperlink documentation.
7. Implement service map maintenance to make sure the map (which is a living document) is updated across its lifecycle so that it always:
Aligns to the changing service structure/environment
Delivers service-management value to the organization
Although service mapping can have a major impact on improving how an organization operates and competes in the marketplace, it cannot fully support digital transformation visibility needs such as:
Discovery and mapping of homegrown/legacy applications
Real-time updating and active scanning
Cloud cost analysis and optimization
This is where application and dependency mapping come into play. But for an organization to best position itself, it must understand how service mapping and application mapping differ and how they can work together to make a business more competitive and resilient.
How Is Service Mapping Different from Application Mapping?
SMB and enterprise environments are full of complexity in the digital age where interaction and dependencies to deliver the needed functionality and services can span:
IT/OT environments and workloads
Applications and their dependencies
Network architectures and devices
Virtual and cloud systems, platforms, applications, and devices
Discovering and mapping these dependencies is critical for every organization, but that can mean the use of both service maps and application dependency mapping. It is the differences between these two processes, how they overlap, and their integration that defines how they bring greater strength to an organization.
Application mapping, also known as application dependency mapping (ADM), discovers and identifies how applications and their dependencies interact. This process is critical to:
Incident management, to ensure high availability of applications
Proper resource allocation
Cloud cost optimization
Maintaining optimum uptime
Intelligent cloud migration and data center transformation
Effective IT documentation and asset management as well as regulatory compliance
Microsegmentation
Service mapping provides a graphical map of every device and application that makes up a service to create a visual chart or diagram of each service. This enables:
Business impact analysis (BIA) for business continuity and disaster recovery planning
Cause and effect analysis
Risk analysis to balance gains from potential opportunities and potential loss or risk
Cost allocation
Availability planning
Relationship management
Architecture management
Portfolio management
Configuration management
Application mapping is a technical picture of application interconnections and dependencies. A service map is a graphical map of all technology interactions and interdependencies ordered into business services. Both approaches can take the form of on-premises or cloud-based software and use either agentless or agent-based discovery approaches.
Organizations need both tools to understand where they are in terms of services and application dependencies. They need both viewpoints to determine where they are going and how they can innovate to remain competitive and cost-efficient—and continually grow their top and bottom lines.
Every organization's IT, OT, and business operational environment is constantly changing as they progress in their digital transformation journey. This leaves a mix of legacy on-premises systems, shadow IT, and new cloud architectures that add discovery complexity. These environments are constantly changing with new devices, applications, and connections, which requires constantly updating both the service map and the application dependency map.
Meet Faddom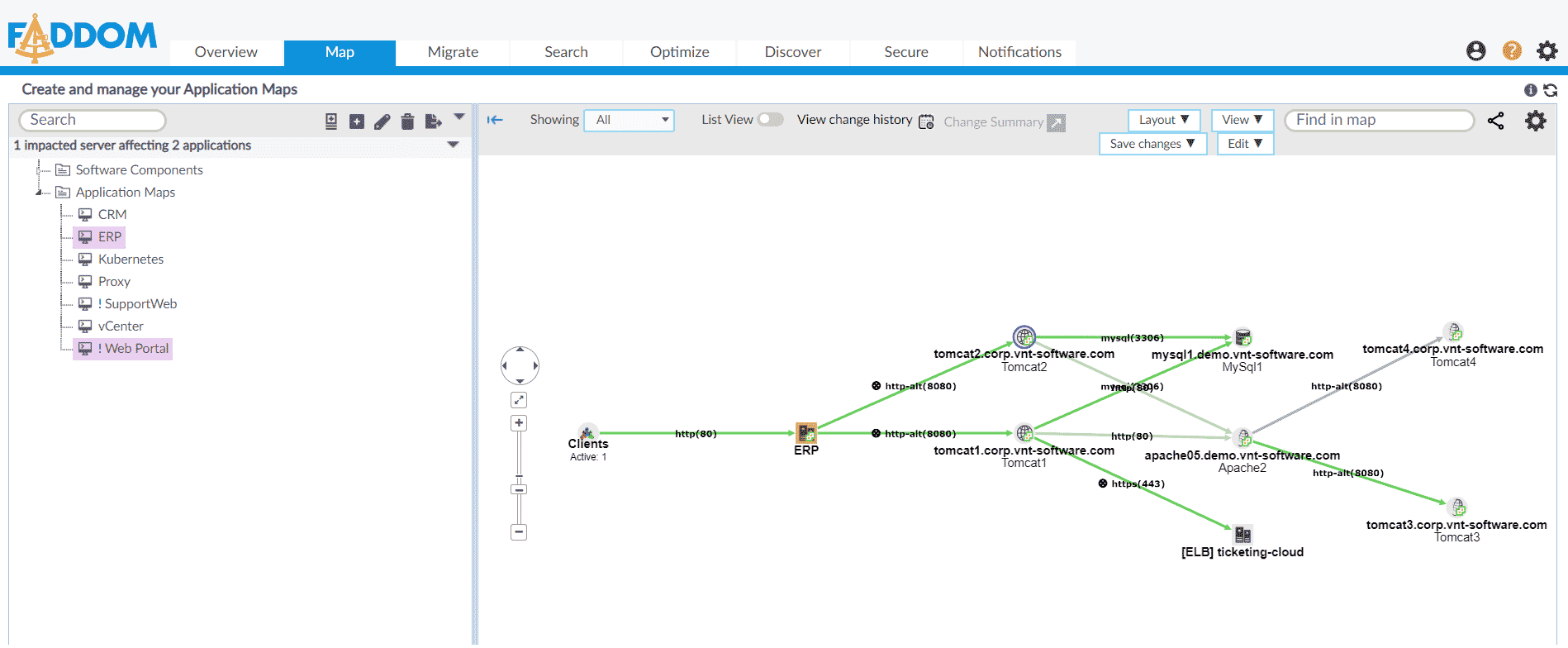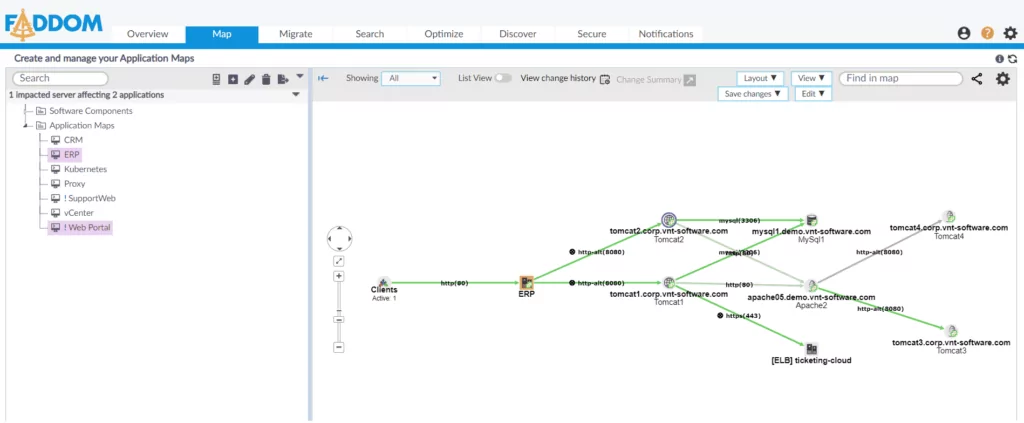 Faddom helps organizations worldwide by mapping their entire hybrid IT environments — both in the cloud and on premise — in as little as one hour with application dependency mapping.
Want to Learn More About…
Application Mapping
IT Audits
Business Continuity Plans
Cloud Computing Costs
Disaster Recovery
Cloud Migration
Microsegmentation
AWS CloudFormation