Read Time:
7
minutes
Hybrid cloud has rapidly become the IT strategy of choice for organizations currently in the throes of a digital transformation journey. And with good reason.
It offers the best of both worlds—by allowing them to enjoy the flexibility and scalability of the public cloud while continuing to make use of existing on-premises investments.
They can provision infrastructure at the click of a button, take advantage of the OPEX model of the cloud and accelerate application development through access to new technologies, making it quicker and easier to get new IT projects off the ground.
But, at the same time, they can maintain their existing portfolio of legacy applications and meet strict compliance requirements by keeping certain workloads on their in-house servers.
Despite the clear benefits, they still face a number of barriers to effective management of workloads across disparate on-premises and public-cloud environments.
This post runs through seven types of hybrid cloud management platforms that can help organizations overcome these challenges and make their hybrid-cloud strategies a success.
What is Hybrid Cloud?
A hybrid cloud is an integrated environment of public cloud, private cloud, and other on-premises infrastructure. However, it means more than simply a collection of such deployments. It has a very specific definition, whereby there must be some kind of orchestration or workload portability between them.
It gives organizations the flexibility to host workloads in the environment that suits them best—typically based on cost, capacity, performance, or compliance requirements.
A hybrid cloud comprising more than one public cloud platform
Common uses of hybrid cloud include:
Failover: Standby replication of an on-premises environment in the cloud so that an application can continue to function in the event of disruption.
Data storage: Cloud-based storage that provides centralized access to data by on-premises applications from any location in the world.
Cloud bursting: Where an application makes temporary use of compute resources in the cloud during periods of high demand.
Benefits of Hybrid Cloud Management Solutions
Hybrid-cloud deployments are highly complex. And so is the task of managing them.
This is down to the patchwork nature of different vendor technologies, storage systems, and networks across different types of on-premises and cloud-based infrastructure.
Moreover, the problem is compounded by the huge number of different tools needed to manage each of the components within the hybrid-cloud ecosystem. Each of these performs its own discrete role—with its own dashboard or interface and platform-specific capabilities. This ramps up complexity even further and makes it difficult to maintain blanket visibility and control over the IT inventory.
Dedicated hybrid-cloud management software and other platform-agnostic solutions help address the issue by providing coverage across different types of public-cloud and on-premises environments from a single pane of glass, helping to ensure proper data governance and security, and optimal cost and application performance.
The Hybrid Cloud Management Toolkit
1. Cloud Deployment Platforms
Open-source cloud deployment platforms, such as OpenStack, Apache CloudStack, and ManageIQ, allow organizations to build, orchestrate and manage their own portfolio of cloud-based infrastructure services in their on-premises data center or the public cloud.
These solutions replicate the self-service model of the cloud, allowing users to request infrastructure resources on demand through a self-service portal.
In essence, cloud deployment platforms play an essential role in the hybrid-cloud toolkit by giving organizations a way to:
set up a private cloud
facilitate integration with the public cloud
make more efficient use of on-premises infrastructure
2. Software-Defined Data Center (SDDC)
An SDDC is an alternative method of partitioning data center resources and delivering them as a service. However, unlike a fully functional private cloud, an SDDC takes a more traditional virtualization approach—where end users have to rely on IT to provision virtual servers.
And by contrast with cloud deployment platforms, which can run on most types of infrastructure, SDDC solutions also require special-purpose hardware.
The SDDC market is dominated by VMware. So it's important to bear in mind vendor lock-in issues and the licensing costs of using such a proprietary solution.
However, the SDDC option may be a good fit for certain companies with existing VMware investments. Furthermore, the big three public cloud vendors, AWS, Microsoft Azure, and Google Cloud Platform, offer a fully integrated VMware experience, allowing customers to extend their on-premises environment to the public cloud.
3. Patch Management
A wide variety of products are available on the market for rolling out patches to servers and endpoints.
A number of these provide multi-OS support. Moreover, leading public cloud vendors, such as AWS and Azure, offer some level of automated patching. However, neither these nor third-party offerings are as yet able to offer fully fledged hybrid-cloud capabilities.
As a result, some organizations are now beginning to implement their own automated patch management strategies.
To help its customers do the same, AWS has published a workflow for automated patch management of server instances hosted both on-premises and on its own platform—using AWS Systems Manager as the central point of control.
4. Cybersecurity
When an organization moves its workloads to the cloud, it offloads some of its responsibilities for security to the public cloud provider. Nevertheless, many security obligations remain. So it's also important to be aware that the public cloud and in-house data center are two very different kinds of infrastructure.
On-premises infrastructure is a static environment with a clearly defined attack surface at the network perimeter. By contrast, the cloud is shared, dynamic infrastructure with far more moving parts.
This not only makes it difficult to adapt traditional security tools to the cloud, but also presents different challenges to protecting workloads. This calls for security solutions that are adapted to the heterogeneous nature of the cloud.
Differences between On-Premises and Cloud Security
Focus of on-premises security
Focus of cloud security
Intrusion prevention at outer perimeter
Intrusion prevention on individual workloads
Physical network appliances
Cloud vendor APIs
Packet sniffing
System configurations
However, to reduce management overhead and complexity, organizations ideally need security tools that offer both on-premises and cloud capabilities and the ability to protect their hybrid environments from a single point of control.
Solutions that support hybrid cloud include Alert Logic Hybrid Cloud Security, Armor Everywhere, and Qualys Cloud Platform.
5. Containers
Organizations are increasingly using containers as an alternative virtualization technology to traditional virtual machines. Containers do away with the need for a hypervisor and instead share the kernel of the host operating system (OS) with other containers to access the underlying resources they need.
As a result, it's possible to replicate containers on different servers with different configurations, provided each server OS uses either the same or a compatible Linux kernel. This approach makes them highly portable and therefore ideal for application deployment in hybrid-cloud environments.
The dominant container technologies are container deployment platform Docker and container orchestration system Kubernetes. Both of these now also support Windows-based container environments.
However, mixed Linux and Windows container deployments come with a number of limitations. For example, Linux containers can only run on a Linux host OS while native Windows containers can only run on a Windows server.
6. Application Dependency Mapping
Application dependency mapping (ADM) is a class of IT asset discovery and monitoring software, which gathers information about application dependencies and presents it in a way that's easy to understand. It provides this in both spreadsheet and visual form.
The visual representation is particularly useful in complex hybrid-cloud environments, as it's much easier to see the interactions and relationships between the different components of an application and how they work together and affect one another.
ADM tools also work in real time, giving a dynamic picture of what's happening in a hybrid-cloud environment. For example, they report the health of servers and connections, providing insights that help troubleshoot issues more quickly and efficiently.
But ADM serves a valuable role in many other use cases, helping to reduce hybrid-cloud complexity in areas such as cloud migration, IT change management, application rationalization, cybersecurity, cost optimization, and business continuity and disaster recovery (BCDR).
7. Public Cloud On-Premises Extension Services
All three leading cloud vendors now provide solutions that extend their clouds into on-premises data centers and thereby create a unified hybrid-cloud environment.
Each service works slightly differently. For example, Amazon's offering AWS Outposts are purpose-built appliances that are delivered, installed and maintained by the vendor. They host AWS compute and storage servers, which allow customers to use services such as EC2 instances, EBS, and Amazon RDS, wholly within their own data centers.
By contrast, Google's solution Google Anthos is a container-based environment that can run on any server that's capable of supporting Kubernetes. This makes it a more flexible and portable option for hybrid-cloud workloads. It can convert virtual machines to containers, making it easier to migrate legacy applications to the cloud. It's also compatible with both AWS and Microsoft Azure clouds—so workloads aren't tied to Google's own infrastructure.
And, finally, Microsoft counterpart Azure Stack is a portfolio of hybrid-cloud services, each designed for different use cases.
Comparison of 3 Main On-Premises Extension Services
AWS Outposts
Azure Stack
Google Anthos
Unified management of cloud and on-premises resources
•
•
•
Stores data at the edge for local processing
•
•
•
Data encrypted at rest and in transit between on premises and cloud
•
•
•
Hardware installed and managed by cloud provider
•
Supports serverless workloads
•
•
Supports multi-cloud
•
Source: TechTarget
Hybrid Cloud Trends for 2023 and Beyond
Hybrid cloud is still a relatively new concept in IT infrastructure. As a result, the market for hybrid-cloud tooling has yet to reach full maturity.
So the next few years are likely to see significant advances in portability and interoperability. This will be all the more so in the case of container-based workloads, where new levels of abstraction will eventually allow developers to create and package applications that can run virtually anywhere.
Furthermore, as software vendors continue to embrace hybrid cloud, they'll need to provide more of the capabilities customers need and more centralized control over distributed IT assets. Even developers of cloud-native applications will need to adapt to the changing IT landscape by adopting a more hybrid-centric approach.
And that can only be good news for customers, whether they host their applications in-house, in the cloud, or in a combination of both.
Meet Faddom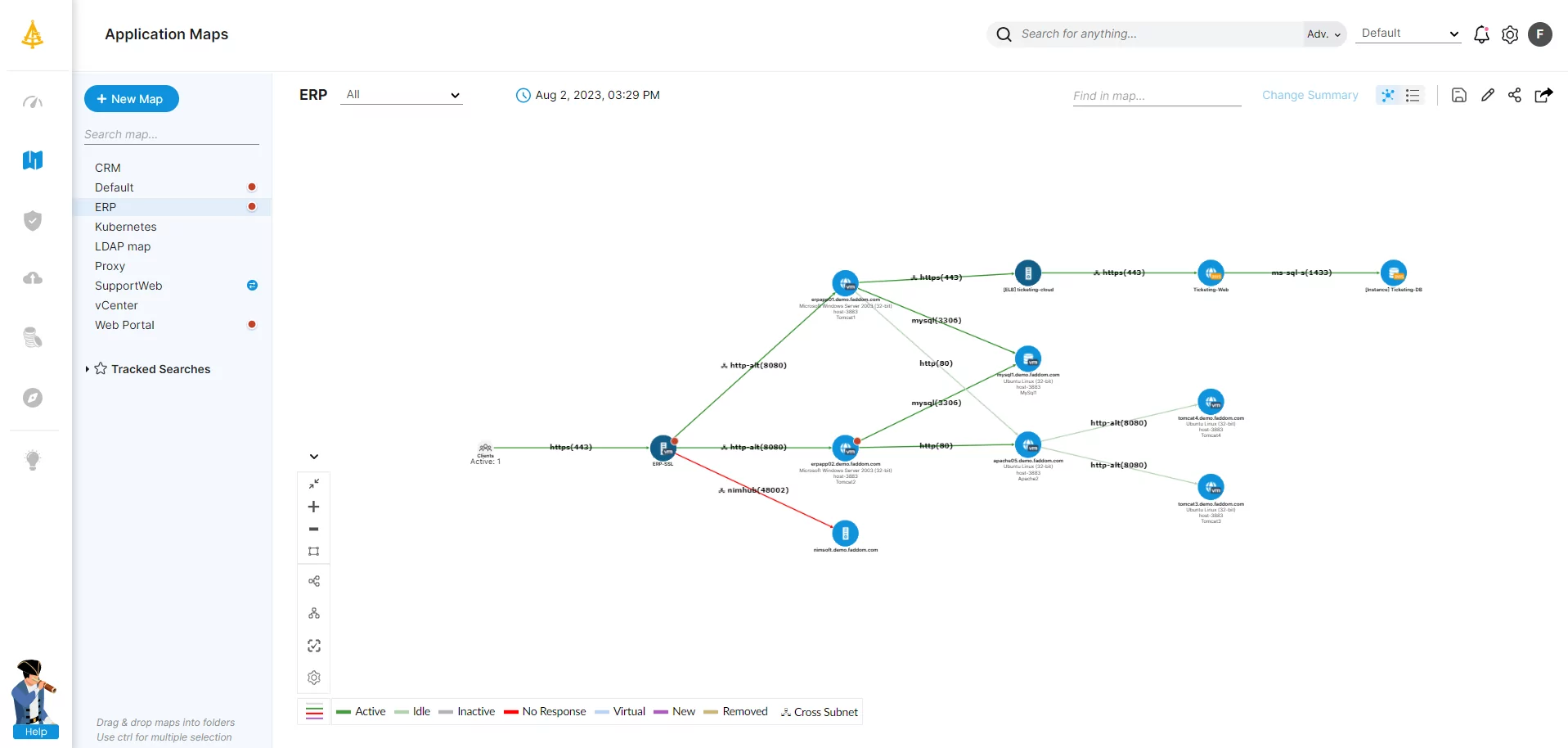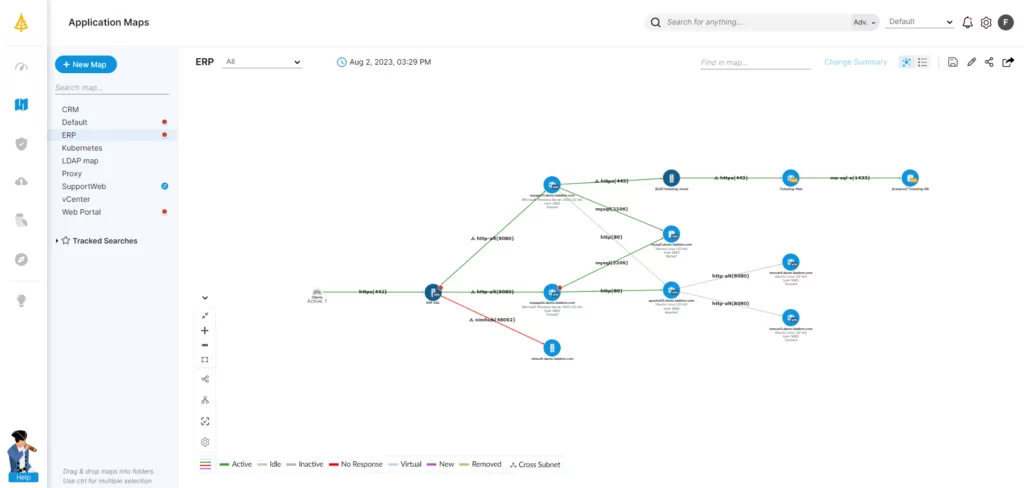 Applications grow and change as both a driver and a result of business activities. Using Faddom and other hybrid cloud management tools is the ideal means for adapting to every business contingency.
Faddom is a hybrid application dependency mapping tool that helps you visualize your on-premises and cloud infrastructure with continuous, automatic updates — in as little as 60 minutes. To learn how Faddom can support real-world business outcomes, just start a free trial today!