Read Time:
7
minutes
Organizations of all sizes, and across all sectors, are adopting multicloud strategies. While cloud offers a wealth of benefits, adopting multicloud enables greater business agility and resilience while lowering costs in ways that a single cloud provider cannot provide. Almost 90% of businesses had a multicloud strategy in place or in the works in 2022, with more expected to make the shift in 2023 and beyond.
This trend is primarily a means of supporting application performance while reducing cloud costs and vendor lock-in—two major downsides of cloud. But while multicloud approach brings many potential benefits, it also brings complexity regarding its management.
In this article, we'll explore strategies to keep tabs on the multicloud's potential complexity. We'll start by defining multicloud management, take a deep dive into its benefits and challenges, discuss how to choose and implement a multicloud management platform, take a look at best practices, and wrap up by exploring the importance of visibility in a multicloud approach.
What Is Multicloud Management?
Multicloud management is the ability to manage applications, workloads, compute, and databases across multiple public and private cloud vendor environments from a centralized viewpoint. It is the only way to control—and thus maximize—the many benefits that multicloud has to offer, including cost containment, improved security and compliance, and improved operational workflows and performance via infrastructure provisioning.
The Role of the Multicloud Management Platform
Creating an appropriate management environment for multicloud requires highly specialized multicloud management platform software. These tools provide automation to handle the complex management challenges of multicloud deployment. Managing complete assets and resources across all cloud environments simultaneously, while also factoring in changing cloud service portfolios and pricing, is a non-negotiable for effective multicloud management. Multicloud management platforms allow organizations to perform analyses for ideal workload placement, resource usage, cost, and forecasting, to determine cloud budgets, use cases, and business outcomes.
Multicloud management platform tools must be cloud agnostic and capable of extensive automation and orchestration capabilities, which will shape monitoring, management, scheduling, analysis, reporting and self-service possibilities across clouds and the organization.
Enterprises need full visibility across every environment in the cloud and on-premises to make informed decisions. While many multicloud management tools provide a form of application mapping and discovery functionalities, a standalone application mapping tool can provide a more comprehensive view via cloud application discovery best practices. This comprehensive multicloud management approach offers organizations a wealth of benefits, including improved operational efficiency, enhanced service and product delivery, expanded market possibilities, and superior customer experience (CX).
Benefits of Multicloud Management
Multicloud management is a baseline for business survival, growth, and resilience due to a combination of factors, including technology advancement, changing customer, business, and market demands, and global events (like the COVID-19 pandemic.) Beyond basic business survival, multicloud managements offers a wealth of potential benefits to any organization. Let's take a dive into some of these benefits.
Operational Performance
Multicloud use can deliver operational performance improvements in a changing hybrid work world. This includes the ability of a distributed workforce to access applications and workloads, and minimal latency for remote workers. Multicloud can also lower CAPEX and enable the development of new services and products to meet changing customer demands.
Business Flexibility and Agility
Data and workloads are constantly growing for any successful business, which means balancing storage, access, and analysis needs against costs and security. Multicloud environments give companies the ability to scale data and workload storage—an ideal scenario that addresses this common challenge.
Cost Management
In 2022, 59% of businesses targeted cloud cost savings as their top initiative. Cloud costs are complex and fluctuate constantly within and across providers based on applications and workloads. As such, managing costs means tracking those cloud expenses across all environments on an ongoing basis. A multicloud management platform provides analysis and automation to track usage and provide insights on cloud provider price changes using machine learning algorithms.
Vendor Lock-In
Cloud-agnostic service offerings, price negotiations, and large partner ecosystems offered by hyperscale cloud providers are helping to reduce lock-in. This allows organizations to leverage multicloud strategies to focus on the latest solution for application development, delivery, and access for business resilience, market share, and innovation.
Security, Resilience, and Compliance
The complexity of multicloud strategies and deployment can hide security flaws that lead to attack vulnerabilities. These vulnerabilities can also make it difficult for organizations to stay resilient and compliant with data sovereignty guidelines.
Multicloud management platforms monitor and automate security protocols and policy actions across all cloud environments, thus supporting regulatory compliance. They can also provide multiple options for resilience via data backup and recovery.
Challenges of Multicloud Management
While implementing multicloud management comes with numerous benefits, it is not without its challenges. Process coordination and visibility across multiple cloud platforms are the two broad areas that make multicloud management complex. When organizations analyze these areas, they find several aspects that define that complexity on more of an individual cause level. Let's explore three key challenges in greater depth.
Provider differences: The complexity of a single cloud provider increases exponentially with each additional provider in a multicloud approach.
Multicloud design, implementation, and skills: Application visibility is more difficult when data and workloads move between on-premises and multiple cloud environments. While 83% of enterprises say multicloud hybrid is the ideal approach to cloud use, 97% believe that their organization lacks the skills to realize those business possibilities.
Operational sprawl, compliance standards, and spiraling costs: Organizations use multicloud in many ways, which can lead to inconsistent approaches within a single organization. This can be a problem for multicloud strategy design and effective multicloud management implementation when it comes to security, compliance, and determining and controlling cloud usage costs.
Choosing and Implementing a Multicloud Management Platform
There are many cloud management platform tools available that address organizations' multicloud environment management needs. Due to the variety of platforms on offer, it's best to start an assessment of them by looking at their offerings with regard to key features needed by every multicloud organization. This also helps to inform implementation processes.
Monitoring
Service monitoring is a broad area, and should include hybrid (on-premises, private, and public cloud) and multicloud services monitoring. This should include application and network-layer performance visualization and reporting, in order to determine future service usage, dependability, cost, and metrics. Monitoring enables organizations to adjust and maximize cloud usage value.
Analytics
Detailed cloud behavior analysis is a crucial part of a platform because it permits an understanding of current cloud usage and future forecasting, as well as behaviors such as performance and costs.
Service Provisioning and Performance
The platform must be capable of launching and allocating all cloud services after implementation. It must also track service performance to ensure that all services are working as expected.
Service Orchestration
Applications and workloads have different functions and priorities based on their business functions and even the business' sector. While some platforms offer a broad range of capabilities and use cases, others excel in more specific areas. Organizations must determine which is most appropriate for their needs.
Automation, Service Policy/Governance, and Security Integration
Policy development and automation are foundational elements of a multicloud platform. They determine the platform's effectiveness in meeting management parameters that guide business outcome measurements, such as cost and performance.
Understanding the effectiveness of cloud services helps to determine application and workload placement based on historical and projected analysis. Automation covers a broad range of features relevant to all aspects of management, monitoring, analysis, service, and policy development/ function. The appropriate platform will integrate with existing cloud security infrastructure to offer access management reporting and other organization-led security tools and platforms in a shared responsibility model.
Centralized Management
The platform will provide an extensive list of possibilities, all focused on providing centralized management to reduce complexity. This intuitive and heavily automated GUI becomes the means to determine what gets managed, monitored, analyzed, and moved to reach the business's operational, financial, services/products, and customer experience goals.
Flexible Application Delivery, Insights and Visibility
To make the most of these platforms via implementation requires making some determinations about how to use your applications and workload environments. This will first be based on cloud delivery models that include software as a service (SaaS), infrastructure as a service (IaaS), and platform as a service (PaaS). Each provider has a different approach, offers unique tools, and has a distinct pricing model. Organizations must define their needs and goals in order to select an appropriate platform and configure it optimally.
Implementing a multicloud management platform will vary based on business priorities. For example, one company may be implementing in order to reveal blind spots such as shadow IT, while another may be looking to reduce escalating costs. Priorities will shape factors including the monitoring of security policies, cloud usage, and data at rest and in motion across all environments.
A comprehensive range of implementations and management outcome possibilities are required in order to gain visibility into how every aspect of how an organization is using each cloud environment. Comparisons can then be made between cloud platforms based on desired business outcomes and innovation possibilities can mean a very. Management, monitoring, analysis and reporting functionality changes are all rooted in the development of multicloud management best practices.
Multicloud Management Best Practices
Enterprises should rank the varied benefits of multicloud management in order of priority based on desired business outcomes and cloud strategy. To get a headstart on effective management, a business can implement best practices to ensure that all decisions about management platform set up and use will provide reliable data that drives desired business outcomes. The following six best practices will give a solid foundation for effective and efficient multicloud management.
Apply consistent policies across all environments. Doing so supports consistent security and access rules, data governance, and business processes that are the same across every cloud environment.
Maximize container and Kubernetes use for workload portability and cluster management. Application workloads must be capable of moving between platforms without code-level changes. Using containers and Kubernetes makes that simpler, with the latter used for container management, deployment, and automation in a multicloud environment.
Ensure that there are clearly-defined and justifiable reasons for moving applications and workloads. Having a comprehensive multicloud strategy that defines all migration and placement decisions helps to ensure multicloud benefit maximization based on business needs.
Constantly look for ways to contain costs. Cloud spending visibility and comparison—along with cloud management automation across every environment based on applications and workloads—is foundational keeping costs low while maximizing performance.
Integrate security approaches. Choose a multicloud management platform with a single dashboard view to managing multicloud security with ease.
Maximize automation use. Automating repetitive manual processes helps to lower the number of human mistakes and limit the need for manual process completion by personnel. The resulting improvements in speed and accuracy can affect diverse areas including application deployment, migration between clouds, cloud service provisioning and de-provisioning, and regulatory compliance across the multicloud environment.
Importance of Multicloud Application Visibility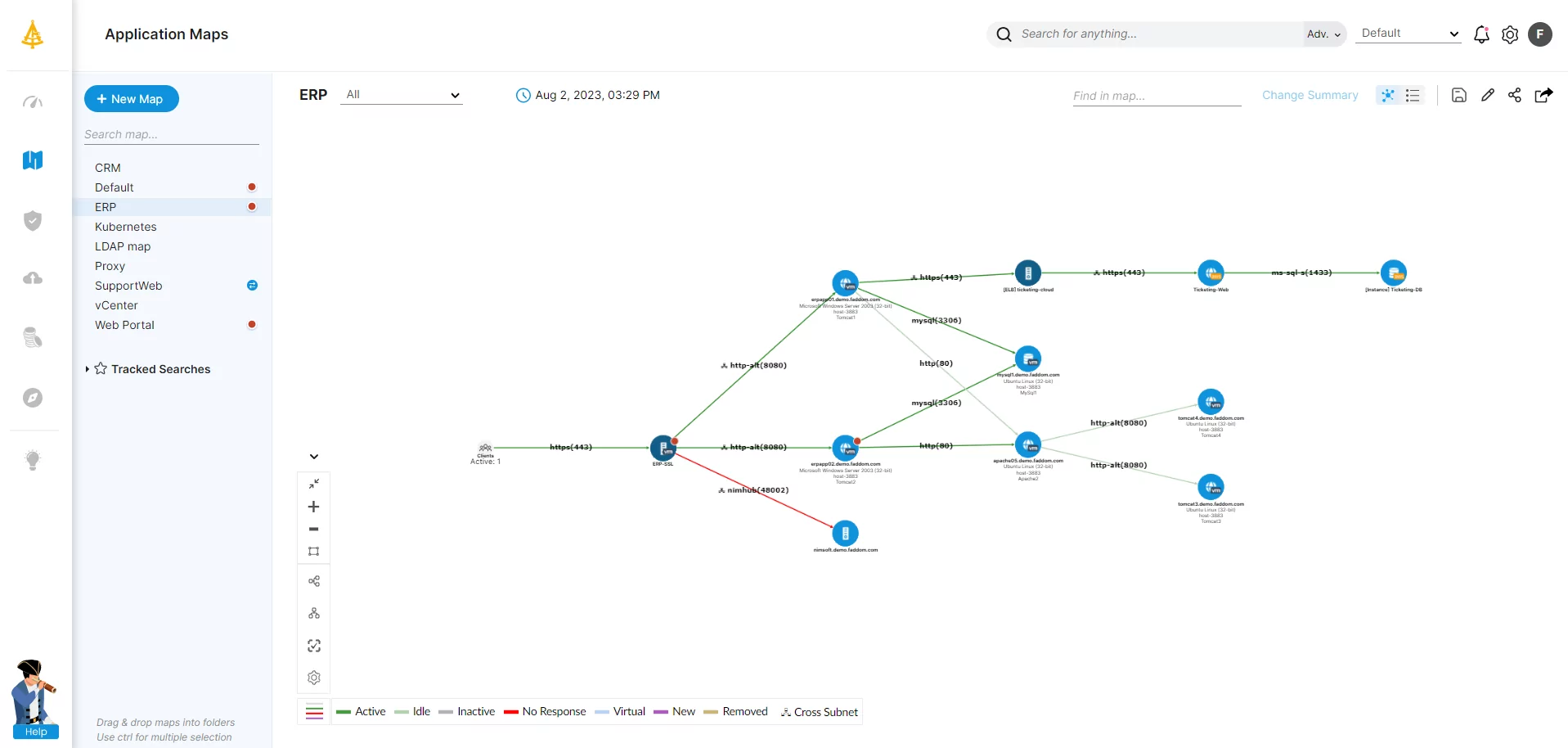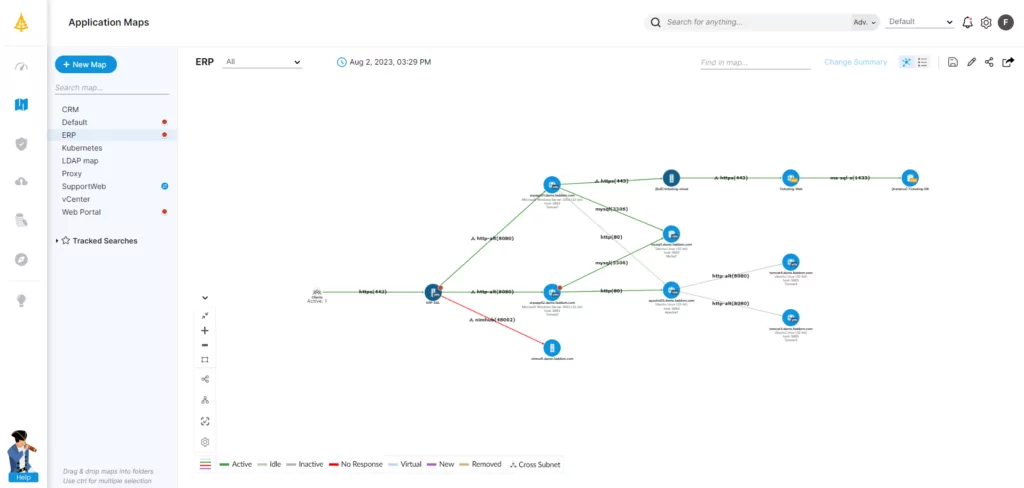 The ideal approach to a multicloud environment's applications, workloads, data, and infrastructure visibility is to maintain a holistic, real-time view of where every component resides and can travel. This facilitates better cloud management decisions that improve internal performance, service/product delivery market competitiveness, security, compliance, and CX. Automating—and therefore speeding up—the ADM process delivers real-time views of a changing environment, which adds to the benefits that businesses can derive from a multicloud management platform.
Organizations need the ability to visualize application dependencies across all clouds and other environments, including on-premises and the edge. Application dependency mapping supports multicloud management while providing insights for broader digital transformation projects. A single, comprehensive ADM tool such as Faddom can visualize your on-premise and cloud infrastructure with continuous, automatic updates in as little as 60 minutes so you can see all your servers and applications and how they are connected to each other.
Just start a free trial today today!