Read Time:
7
minutes
More and more companies are leaving the cloud — in part. That statement might sound antithetical to the general belief that more and more companies are shifting out of traditional data centers and adopting cloud-based infrastructure. But it's true.
Infrastructure-as-a-service (IaaS) was the buzzword of the year for many years. Now, companies are increasingly tempted to stop outsourcing those services and move back to on-premises infrastructure.
What is the real story behind this cloud migration reversal? Cloud migration is an expensive proposition, and its results are difficult to predict. Cloud-adjacent security challenges have become increasingly difficult for most organizations to mitigate, and cloud-platform management requires specialized skills. It is also difficult to protect cloud infrastructure.
Because of these reasons and others highlighted below, there has been an exodus from cloud-based architecture and a move back to the familiar pastures of on-premises and more private infrastructure. Let's briefly look at the story from a number of perspectives before examining the specifics of why companies are leaving the cloud with such conviction.
What Do the Numbers Say?
The dominant narrative originally suggested that cloud-based infrastructure was the only way to future-proof and keep up with competitors in the modern world. According to Gartner, public cloud spend is forecasted to hit $600 billion globally in 2023.
However, that figure reveals only one side of the story.
The other side shows that many companies are struggling to meet the financial and operational demands of managing a cloud-based business. In a 2021 study involving 600 organizations, 451 Research revealed that only 52% of those companies who moved to the cloud decided to remain there. Similar trends are appearing around the world.
Companies that are now headed back to on-premises infrastructure have had to acknowledge some very real drawbacks, including those discussed below.
1. Rising Costs
One of the biggest benefits that companies sought when they migrated to the cloud was lower costs. Therefore, they were shocked to see that their costs ended up increasing. A few things need to align for cloud costs to make business sense, and the cost-saving benefits of the cloud are not guaranteed.
Numerous mid-sized companies have been exiting the cloud, including ones that have been cloud-based for many years. The issue is that for many of these companies, the cloud was a smart option when their business was new and growing. However, in the long term, it wasn't sustainable.
In some cases, the cloud was also an ideal option for companies with irregular workloads. The software company Basecamp is an example of this. However, they left the cloud after years of use once they found that it didn't serve predictable and steady workloads well. In this scenario, the savings promised through reduced cloud complexity were never realized. Once application demand patterns became predictable, the cloud benefits enjoyed by the company evaporated.
Paying a certain price for a particular infrastructure while uncertain of incoming business is highly risky. Companies are learning this the hard way. The cost of third-party and add-on cloud management tools is also responsible for rising costs. The rushed migration during the pandemic further resulted in many companies suffering from expensive vendor lock-ins.
2. Lack of Customization
The fundamental challenge with cloud infrastructure is the lack of customization. Many companies knew this before migrating. Others, undergoing a profound change during the peak of Covid-19, were caught unaware. Cloud infrastructure providers claim that it is a one-size-fits-all solution. However, this is not the case. One-size-fits-all is a myth when it comes to business processes.
Companies have been finding it hard to work on a platform run by external cloud service providers that have very little understanding of the nuanced requirements of a given business. Even if a provider does grasp a particular business's needs, there are almost no options for customization. As a result, companies are finding themselves dancing to the tunes of their infrastructure providers instead of the reverse.
Furthermore, teams that migrated to the cloud were used to a set-up where they were in charge. Some of these teams were surprised by the limitations of their new infrastructure. They simply couldn't innovate and operate at their fullest potential, which is a significant roadblock for any company.
3. Security Issues
A significant security breach can break a business forever. The average data breach cost in the United States in 2022 reached a whopping $9.44 million. Globally, that number was $4.35 million. It does not help matters that 45% of those data breaches in 2022 were cloud-based.
There was a lot of talk about how robust cybersecurity could protect a business from any potential threats better than on-premises infrastructure security could. The truth, however, is that a completely online architecture is always going to be more susceptible to attacks, as seen in the data breach statistics above. There is too much at stake for companies to take such a risk.
The best cybersecurity options for the cloud are powerful and can help in the fortification of a business. But they're expensive. Gartner estimates that there will be an 11.3% rise in enterprise security and risk management spending in 2023. This just goes to show that the base price for cloud migration can be misleading. Cloud-related costs can add up to massive figures.
4. Ensuring Regulatory Compliance
Cloud compliance has been an entirely different world for businesses that migrated from physical infrastructure. They were suddenly failing or at risk of failing to meet various standards, which could cost them fines and put them in the crosshairs of legal trouble. This damage could potentially end a business, especially in the already challenging conditions of a post-pandemic world.
It is not that these companies consider compliance a low priority. The problem is that many believe that maintaining compliance best practices is the responsibility of their cloud provider. This is proving to be a fatal mistake for some and a lesson learned for others. Staying compliant is always a company's responsibility.
A holistic approach to regulatory compliance should involve learning every detail about a cloud provider. Some businesses did not do that, making compliance challenges one of the main reasons why the cloud is witnessing departure. Although a company is responsible for its own regulatory compliance, learning about a cloud services provider (especially if they follow best practices) can ensure better alignment with individual compliance goals.
5. No Access to Bleeding-Edge Hardware
It is very easy to get carried away by futuristic promises, especially those pushed by advertising and championed by entire industries. The cloud has amazing benefits along with challenges. It does not guarantee success. It never has.
One of the promises of the cloud that has appealed to many businesses is the elimination of legacy hardware. The limitations of this hardware were slowing down businesses. It has not helped that most of that hardware, even effective ones, need tremendous amounts of physical space and resources to run efficiently.
That being said, companies that moved to the cloud are missing out on the benefits of ever-evolving hardware innovations. Bleeding-edge hardware is out of reach once a company fully immerses itself in the cloud. This can be an expensive loss because most of this robust hardware can run code more effectively for these enterprises.
6. Hybrid Cloud Infrastructure Tracking Challenges
Hybrid clouds are essentially the combined use of both public and private infrastructure. This can include a mix of public clouds, private clouds, and old-school on-premises infrastructure. Hybrid clouds offer the best of both worlds, addressing the security challenges of public clouds while mitigating the complexities of private clouds and traditional infrastructure.
However, if companies build a complex hybrid cloud architecture, the hybrid cloud can become more of a hindrance than an advantage. This makes it essential to properly plan and build a hybrid cloud architecture with minimum complexity and enhanced visibility before migration. A distributed architecture can only work effectively if there is visibility. No visibility results in poor management, resource waste due to the lack of optimal configuration, and security concerns.
Cloud sprawl makes it increasingly difficult for companies to put into place any kind of disaster recovery plan. Where does a company start? How does a disaster recovery plan in one cloud affect the workings of another? These are some of the most pressing challenges that companies face today, forcing them to reconsider the cloud.
Key Benefits of Moving Back to On-Premises from the Cloud
No Contracts and Vendor Lock-Ins
One of the great advantages of moving back to on-premises infrastructure is the underrated freedom of not being tied to vendors and contracts. Companies need to innovate to stay competitive in today's world. Being stifled by vendor lock-ins should be a thing of the past, a non-option.
Rapid Deployment
Another promised benefit of migrating to the cloud was rapid deployment, but many companies didn't see the fruits of that promise due to the challenges listed above. Moving back to on-premises from the cloud can give companies what they've been missing when it comes to workload deployments: speed, ease, and security.
Wide Range of Hardware
There is a shift in the narrative when it comes to hardware. Just a few years ago, hardware was described as unfortunate baggage from the past. However, companies moving back to traditional infrastructure are going to be like kids in a candy store with a wide range of the latest hardware to choose from. Most importantly, businesses can pick what best suits their specific business needs.
Cloud to On-Premises Migration Challenges
Tech Talent Shortage
The global shortage of tech talent, especially in IT, is not a secret. It was one of the driving factors that made companies shift to the cloud in the first place. This skills shortage is still a significant problem that companies will face when they move back to on-premises. However, rather than being seen as a deterrent, companies should view it as a hurdle of the times.
Data Center Management
Effectively managing data centers is a mammoth task for businesses. Everything from security and resource management to capacity planning and compliance standards must be addressed and conducted flawlessly. Firsthand experience with cloud infrastructure development and management will help businesses as they reacquaint themselves with data center management.
Real-Time Monitoring and Reporting
One of the promises of cloud-based infrastructure was real-time monitoring and reporting, a critical ingredient in self-healing systems. Advanced self-healing infrastructure in cloud-based environments can benefit businesses in profound ways since the monitoring tools can produce more holistic real-time reports than on-premises infrastructure.
However, by choosing the right on-premises tools and intricately configuring them, IT teams can ensure that their companies' data resilience is as strong as when they were in the cloud.
Say Hello to Faddom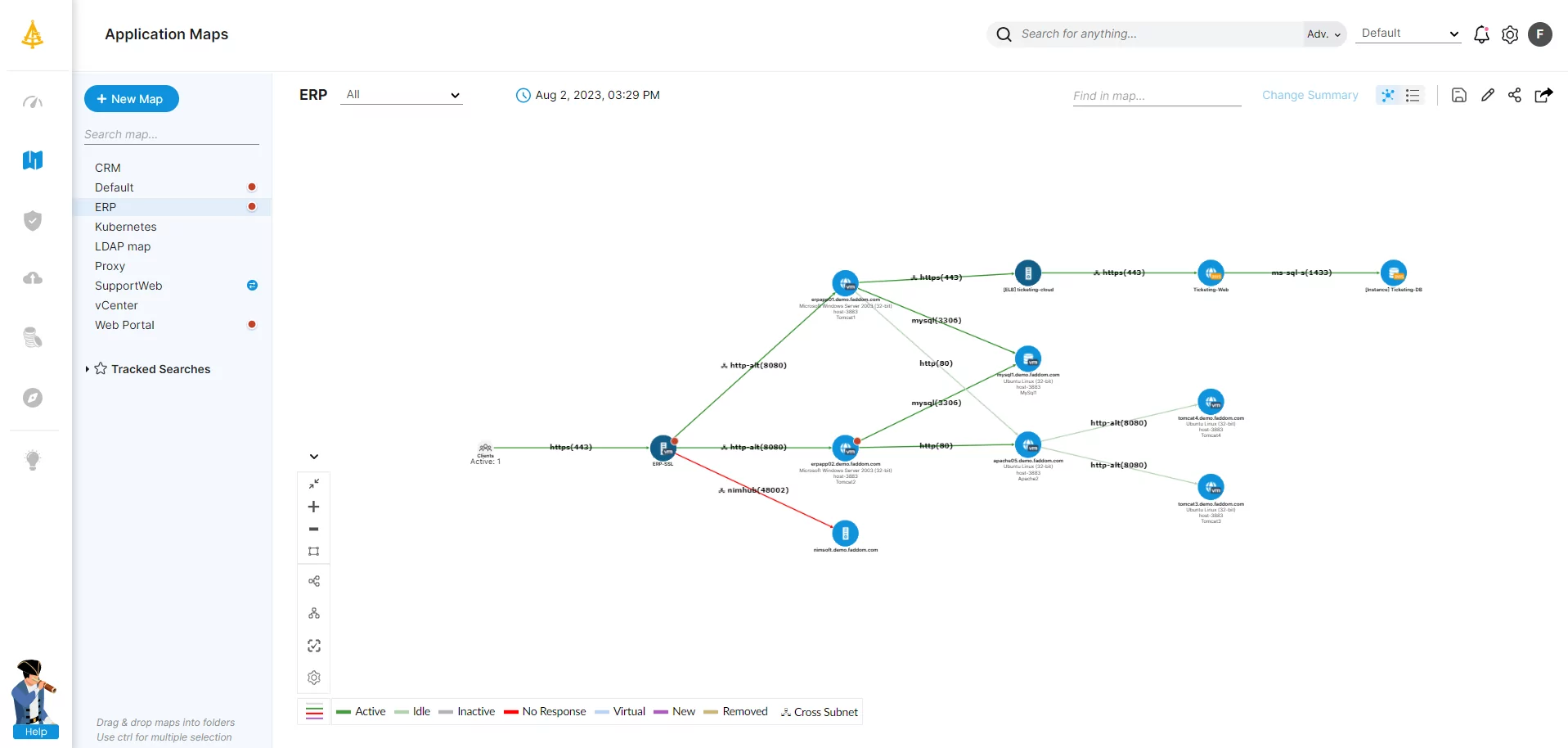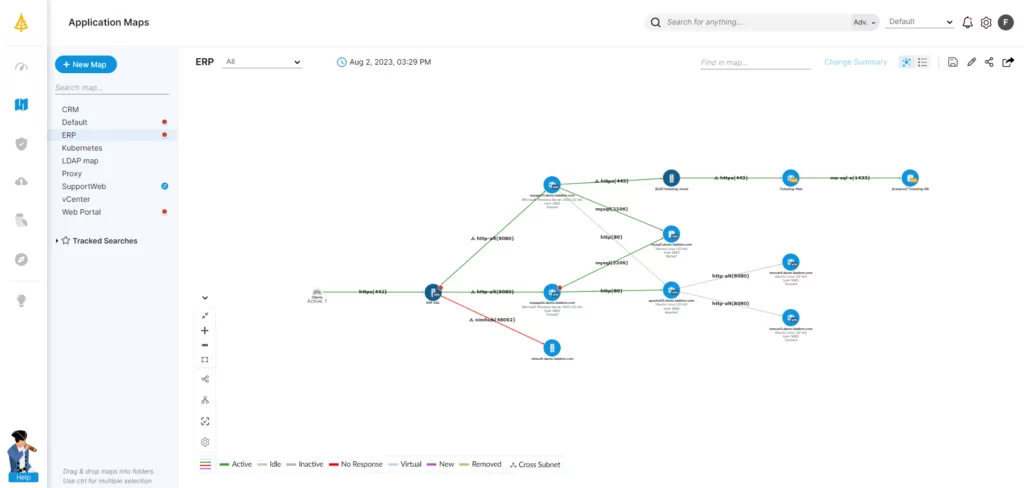 Every day, more and more companies are leaving the cloud — in part. These are companies that did not benefit from the perceived advantages of cloud infrastructure. Unfortunately, many of them were on the receiving end of cloud's biggest drawbacks. For them, the move back to on-premises is an alluring option. We predict that companies — to varying degrees — will have infrastructure both in the cloud and on premises in the future.
Still, the return to traditional infrastructure requires meticulous planning and attention to detail. Companies need to map out their IT infrastructure and applications. They also need to identify and measure dependencies between entities in different environments (both in the cloud and on-premises).
Faddom's hybrid application dependency mapping tool is a holistic and agentless software that renders a visual representation of an organization's on-premises and cloud infrastructure. It does so with automatic updates every 60 minutes.
A stint with cloud infrastructure that did not go perfectly to plan is not a failure. It is a learning experience, a bend in the road, and a chapter in a larger story. A move back to both the cloud and on-premises is the ideal next chapter for many. Faddom is the perfect solution to assist with the transition back. Start a free trial today to begin writing the next chapter.
Just download, deploy, and map!