Read Time:
7
minutes
The role of enterprise architecture is becoming ever more important, as large-scale organizations increasingly rely upon it to guide them through the minefield of digital transformation.
According to Marcus Blosch, VP Analyst at Gartner, at least 40% of organizations will now be using enterprise architecture to help drive business innovation through emerging technologies.
And there's a lot at stake for those companies that have so far adopted the approach to defining and meeting their business goals.
However, it is a highly complex discipline, which necessitates a raft of tools to ensure the senior management team have the insights they need to make informed strategic decisions.
So this post runs through the most common types of applications, which form part of the day-to-day enterprise architecture toolkit. It also takes a look at how such tools are likely to evolve in 2023 and beyond. But, first, it explains the concept of enterprise architecture and the benefits it can bring to a business operation.
What Is Enterprise Architecture?
Large-scale enterprises are, by definition, characterized by a large and varied workforce and a large ecosystem of different products, services, processes, technologies, and infrastructure. This makes them a challenge for senior executives to manage effectively.
Enterprise architecture sets outs to address the problem by mapping out the structure and operation of an organization to help decision makers navigate this complexity.
It is effectively a digital blueprint of an organization, providing a conceptual view of how the different parts of a business fit together. It helps strategy leaders create roadmaps for both long-term and short-term change and assess the potential impact of those changes.
Enterprise architecture emerged during the 1980s as IT started to become integral to corporate business strategy. At first, it was just the domain of IT. However, its scope has since widened to encompass the entire operation of the enterprise.
It has a wide range of potential uses and is able to look at the organization from a variety of viewpoints. These include:
Data
Processes
Relationships
Infrastructure
Technology
Products
Compliance and security
Most organizations use a framework to help them design, plan and manage their enterprise architecture. The three best-known and most widely used of these are:
The Open Group Architecture Framework (TOGAF)
The Zachman Framework
Federal Enterprise Architecture Framework (FEAF)
Benefits of Enterprise Architecture
The primary focus of enterprise architecture is to align IT with business goals. But it also offers a number of other potential benefits. These will depend on the specific needs of a business, what it seeks to gain from the discipline, and the maturity level of its enterprise architecture program.
Nonetheless, the following are just a few of the many other ways in which it can get value from enterprise architecture:
Informed decision making—by providing the intelligence needed to plan strategic change in the most cost-effective and sustainable way, and ultimately deliver successful business outcomes
Reduced risk to information assets—by serving as an aid to data governance and compliance
Improved agility—by helping enterprises respond more quickly to events and the changing business landscape
Progress monitoring—giving the enterprise an up-to-date picture of its digital transformation journey so it can evaluate the impact of change
Better collaboration and coordination between different departments—helping to improve team alignment and standardization of environments across the organization
Useful insights during the process of mergers and acquisitions
The Enterprise Architecture Toolkit
Organizations leverage a wide range of resources to help map out their enterprise architecture and accomplish their digital transformation goals. These include general-purpose business software and dedicated enterprise architecture tools, as follows:
1. Spreadsheet Software
Spreadsheet software, in particular Microsoft Excel, has long been a common method of recording enterprise architecture information.
It is highly robust, simple, and convenient.
However, as a general-purpose office tool, it isn't cut out for mapping out complex enterprise architectures and therefore plays a limited role in large-scale business settings.
2. Diagramming and Flow Chart Applications
General-purpose diagramming tools, such as Microsoft Visio and Lucidchart, serve as an aid to data visualization and provide templates for creating diagrams, mapping process flows and modeling organizational structures.
Visio is a more advanced desktop-based product, whereas Lucidchart is browser based and easier to use.
Other tools include Mermaid—a text-based solution, designed for use by developers, which generates visual representations from code that's similar to Markdown.
3. Knowledge Management Systems
Knowledge management systems, such as Microsoft SharePoint and Atlassian Confluence, provide shared access to documents, reports, archives, and a wealth of other content, making it an invaluable source of enterprise architecture information.
4. Collaboration Tools
An enterprise architecture undertaking cannot succeed without collaboration between different stakeholders across an organization—each with different skill sets and viewpoints. This is important to bridging the gap between IT and wider business objectives, and helping enterprise architects see the bigger picture.
Collaboration tools include Slack and Microsoft Teams, although many other business applications also include collaboration capabilities.
5. Enterprise Resource Planning (ERP) Software
ERP is the glue that binds an organization's different processes and computer systems together. It therefore has a strong reciprocal relationship with enterprise architecture.
This is not only because information harvested from ERP software helps map out enterprise architecture, but also because insights gained from enterprise architecture can help shape the design of an ERP implementation.
Leading ERP platforms include SAP S/4HANA, Oracle Fusion Cloud, and Microsoft Dynamics 365.
6. Customer Relationship Management (CRM) Systems
CRM systems, such as Salesforce, inform enterprise architecture by providing visibility into the customer acquisition process, an understanding of product issues and customer pain points, and other knowledge, such as sales forecasts and future revenue opportunities.
However, CRM platforms process and store a lot of personal information. So it's important to give due regard to data privacy and regulatory compliance when using data collected from such systems.
7. Business Intelligence (BI) Software
BI technology does a lot of the legwork for the enterprise architect by collecting raw data from a range of sources and transforming it into meaningful insights that can drive better decision making.
Many BI tools work on a self-service basis, which allows non-technical users to run queries and create data visualizations, dashboards, and reports for themselves.
Popular self-service BI tools include Tableau, Looker, and Qlik Sense.
8. Data Analytics Software
Whereas BI tools can help provide an historical view of the enterprise architecture posture, analytics can help predict how it will evolve in the future and what actions are likely to achieve optimal future outcomes. It is therefore particularly useful for performing impact analysis of transformational processes.
Most of the leading BI offerings also come with data analytics capabilities. But those that specialize in predictive analytics include SAS Advanced Analytics and KNIME Analytics Platform.
9. Data Governance Tools
Data governance tools help enterprises manage the availability, usability, integrity and security of their data. As they help improve the quality of data, they ensure better results from BI and data analytics, and a more accurate picture of enterprise architecture.
10. Configuration Management Database (CMDB)
A CMDB is designed to serve as a single source of truth about a company's IT assets and supports enterprise architecture by providing comprehensive details about the hardware and software used by an organization and the relationships between them.
It usually comes with a number of built-in capabilities, such as asset discovery, predictive impact analysis of asset changes, and automatic database updates whenever an IT asset changes.
11. Application Dependency Mapping (ADM)
Application dependency mapping is a class of IT mapping, which is closely related to CMDB. However, there are telling differences.
A CMDB is fundamentally a central repository of IT assets with only limited mapping capabilities. ADM offerings, on the other hand, are dedicated application dependency mapping solutions that play a distinct role in enterprise architecture.
ADM tools work in real time and therefore give a more dynamic picture of how the different components of an application work together. They also provide a visual representation of application ecosystems, making it much easier to understand the IT inventory from an enterprise architecture perspective. And they also monitor the health of application components, which can help users recognize weak spots and identify areas that need improvement.
12. Dedicated Enterprise Architecture Tools
Dedicated enterprise architecture tools are specifically designed to help overcome the complexity of capturing, collating and analyzing information from a huge range of data sources across a large-scale organization.
They gather information and associated metadata from IT deployments, both on-premises and in the cloud, and utilize existing content provided by other technologies in the enterprise architecture toolkit.
They connect to different resources via API. However, to simply the setup process, most also offer a number of native integrations. Furthermore, they allow users to enter data manually and are typically designed for use by stakeholders in any department.
Common features of dedicated enterprise architecture tools include:
Data storage, serving as a central repository for managing enterprise information.
Collaboration capabilities, such as file sharing, to help keep everyone involved on the same page.
Support for industry standards and frameworks.
Data enrichment and analysis, including business-friendly visualizations, to help identify and prioritize opportunities, challenges, and risks.
Bulk export and import of data to and from other systems.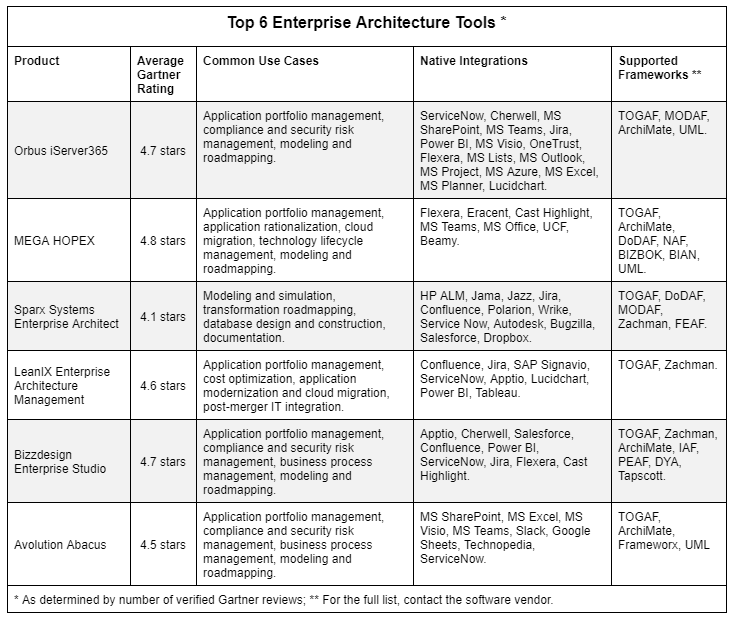 Enterprise Architecture Trends for 2023 and Beyond
Enterprise architecture is a highly sophisticated technology that plays an increasingly important role in today's complex IT landscape. And, although it has been in use for decades, it is still evolving all the time.
So what industry trends and product innovations can enterprise architects expect to see in 2023?
First, the underlying technology is likely to change.
For example, more tools are likely to make use of graph databases, which are better equipped to map relationships within the complex network of interdependencies in enterprise architecture.
They will also leverage more artificial intelligence (AI) and machine learning (ML) to facilitate modeling and predict the impact of change.
Automation may also play a more prominent role, helping to reduce the amount of manual work involved in gathering and analyzing information, and improve agility.
And, finally, as organizations face an ever increasing cybersecurity risk, enterprise architecture tools are likely to add more capabilities to help counter threats, adopt a security-by-design approach and mitigate the impact in the event of an attack.
Meet Faddom
Effective IT asset discovery is a must for enterprise architects. For a detailed and granular view of all your assets and dependencies, an agentless, cloud-based IT infrastructure and application mapping software is essential. Faddom helps organizations worldwide to understand their enterprise architecture by mapping their entire hybrid IT environments—both in the cloud and on-premise—in as little as one hour. Start a free trial to the right today!