Read Time:
7
minutes
Prior to the introduction of enterprise architecture (EA) to the IT environment, businesses were considered atomic units. This hampered organizational transformation; there was no monitoring of organizational efficiency and no awareness of who the key stakeholders were within the company. Enterprise architecture (EA) has attempted to address this disconnect by sectioning the organization into four key domains: business, data, applications, and technology—with each domain featuring a primary stakeholder.
Helping to streamline business operations and information sharing both internally and outside the organization, EA has played an important role in cloud adoption. As a result, according to a 2022 Enterprise Strategy Group survey, 70% of companies reported having increased investment in EA (by 15.7% on average). Among these companies, 97% noted they were planning large EA investments in the next two years. (For more information, see our guide to it asset management.)
Despite the widespread adoption of EA in business processes, organizations continue to struggle when it comes to internal collaboration. In fact, 79% of enterprise architects report having trouble collaborating across their entire organization due to business goals that conflict with IT priorities. Consequently, the vast majority of respondents reported that initiatives took longer to scale (77%) and exceeded the anticipated cost (78%).
The lack of internal collaboration within enterprises highlights the need for a framework that defines the roles of all stakeholders and places a strong emphasis on EA implementation. This article will take a deep dive into EA frameworks to identify their pillars, types, and the strategic advantages of implementing them.
What is an Enterprise Architecture Framework?
An enterprise architecture framework (EA framework) comprises tools and principles that define or dictate enterprise architecture implementation guidelines. This framework divides enterprise architecture into layers and domains.
An EA framework offers enterprise architects the necessary tools and methodologies to combine all enterprise processes in order to create a cohesive environment that is responsive to change and that supports business strategy execution. The framework effectively synergizes between individuals, information, and technology to present a thorough understanding of the interactions within the company.
What Are the Benefits of Using an EA Framework?
EA frameworks offer two key benefits. First, Many companies base their EA decisions on tooling rather than business goals and expected outcomes. An EA Framework protects the enterprise from such pitfalls.
Second, an EA framework ensures EA goals are being met through strategic alignment of business objectives and IT operations. This is a great advantage, considering that 44% of businesses base EA decisions on IT and 26% on business objectives, reflecting a disconnect between the two pillars. Moreover, only 18% of enterprise architects—who are at the forefront of IT transformation—report being consulted in business development projects.
An EA framework helps resolve communication latencies within the company so that enterprise architects play an integral role in the decision-making process, thereby positioning them as primary agents in the company's digital transformation. This approach helps to ensure successful digital transformation in companies of all sizes.
The Four Enterprise Architecture Domains
The EA framework divides the organization into four domains by enterprise architecture: business, data, technology, and application. (There are sometimes differences in the orders or terminologies used in different frameworks. Here, we will usually focus on TOGAF because it is one of the most popular.) Each domain constitutes a crucial component of the digital transformation. These divisions have since evolved into the pillars of digital transformation in businesses; all departmental EA implementation activities now fall under these domains. Here are the domains and what they are responsible for.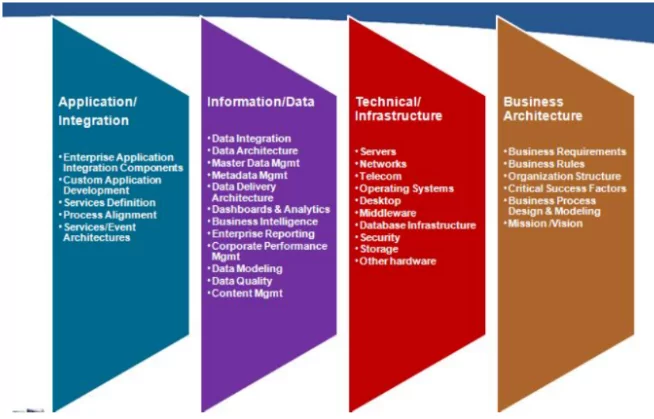 1. Business Architecture
The business architecture is the company blueprint, which enables stakeholders to understand the organization. It is used to align tactical requirements and strategic goals. This architecture defines the enterprise's structure in terms of governance and processes. The development of a business architecture requires collaboration between the managerial functions of business that define and assess issues related to what businesses do, how they do it, how they are structured, and how they live up to established principles.
The five perspectives used by business architecture to view the enterprise include: business capabilities, value stream, organizational perspective, business knowledge, and business strategy.
2. Data/Information Architecture
The data/information architecture is made up of the models, regulations, rules, and standards that determine which data will be gathered and how it will be stored, structured, integrated, and used within the data systems and the organization. It establishes data standards for all of the enterprise's data-dependent functions.
3. Applications/Integration Architecture
The applications/integration architecture focuses on how users and applications interact, and how these interactions shape the business' IT processes. The architecture aims to ensure that the collection of applications the company uses to build its composite architecture is scalable, dependable, accessible, and manageable. Defining the interaction between the application packages and databases helps to identify any integration issues or gaps in functional coverage.
4. Technology/Infrastructure Architecture
The technology architecture addresses the technical design of the applications the enterprise is using. It defines the deployment approaches of software applications and the earliest stages of software development. It is often handled by software engineers and programmers. It is much like the backend components of a software, with all the messy details.
The Enterprise Architecture Layers
In addition to the four EA domains, EA contains layers such as the following — with each funneling into the one below it. Each of these layers can be further split into atom-sized functions and processes.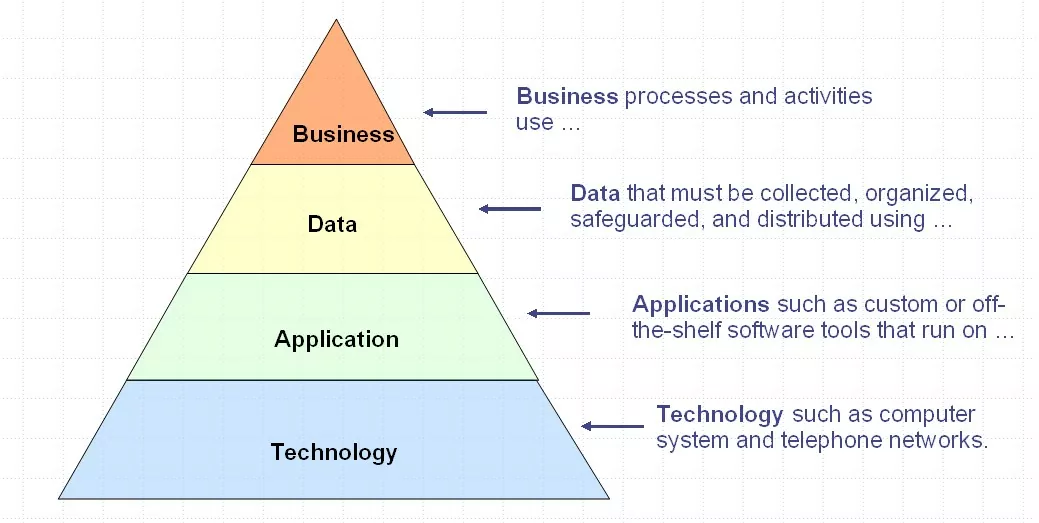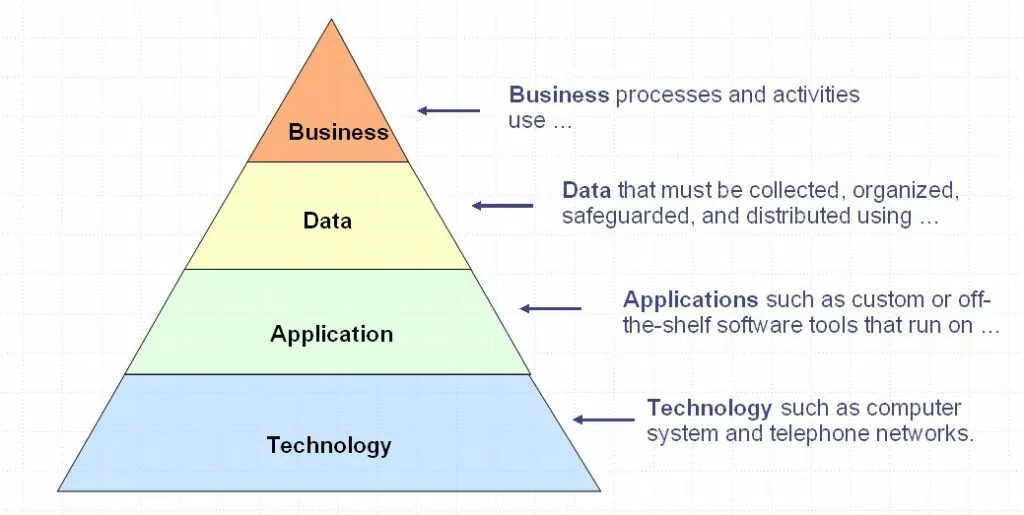 Enterprise Architecture Framework Components
There are three processes that must be followed in order to construct an EA framework: description, design, and organization. Each of these steps focuses on a different area of the framework.
First, enterprise architects must establish and explain how the state of the enterprise (prior to EA implementation) will be documented throughout the description stage, as well as how the different stakeholders perceive the implementation of EA. The next step is to specify the models and procedures the EA framework will use during the design phase. Last, in the organization phase, the human aspect of the business—employees and their unique skill sets—must be taken into account in order to guarantee maximum efficiency. Any skill shortages should also be documented so that training can be provided, as needed.
In addition to following these steps, a typical EA framework should contain the following components: business value measurement metrics, EA initiative model, EA maturity model, and enterprise communication model.
The Types of Enterprise Architecture Frameworks
Reviewing existing frameworks in order to determine the one that best suits the organization's culture and business objectives is key for successful EA implementation. There are many recognized EA frameworks. Among the most popular are:
Consortia-developed: Created by independent research organizations and laboratories. The Open Group Architecture Framework (TOGAF), making up more than 80% of the overall business framework structure, is one such example.
Defense-industry: The accepted enterprise architecture frameworks used in aerospace and defense applications. They outline how to structure the definition of enterprise architectures for applications used by the U.S. Department of Defense (DoD). DODAF is one well-known defense-archetyped EA framework.
Government: Supports information sharing and interoperability among the numerous agencies and entities that fall under the authority of the U.S. federal government. The Federal Enterprise Architectural Framework (FEAF), established in 1996, is one such government enterprise architecture framework. The FEA framework combines five reference models—business, service, component, technical, and data—with a segment model to provide insights into how to implement enterprise architecture.
Open-source: An open-source EA framework is one that was created by the general public without assistance from any official bodies. Businesses can access these easily as paid services or products. The Lean Architecture Framework (LAF) is one of the more popular ones.
Proprietary: Proprietary EA frameworks state that EA implementation should be influenced by the stakeholders and their input. The Zachman Framework, for instance, splits enterprise architecture into two dimensions: one with diverse questions concerning stakeholder perspectives and a second dimension covering the perspectives of the various stakeholders in the architecture development process.
A Comparison of the Top Enterprise Architecture Frameworks
Choosing the ideal EA framework requires planning and consideration of the implementation's structure: Would a broad, encompassing structure that provides the organization with step-by-step processes be best, or would a more adaptable and agile framework be a better fit? It also depends on whether the organization has multiple goals with numerous dependencies, or whether there is one clear aim with few dependencies.
According to TOGAF, the two essential components of an EA framework are a description of the process the architecting activity should follow and a definition of the deliverables the activity should provide. Based on these parameters, Table 1 compares the top four EA frameworks: the Zachman Framework, FEAF, DoDAF, and the TOGAF Framework.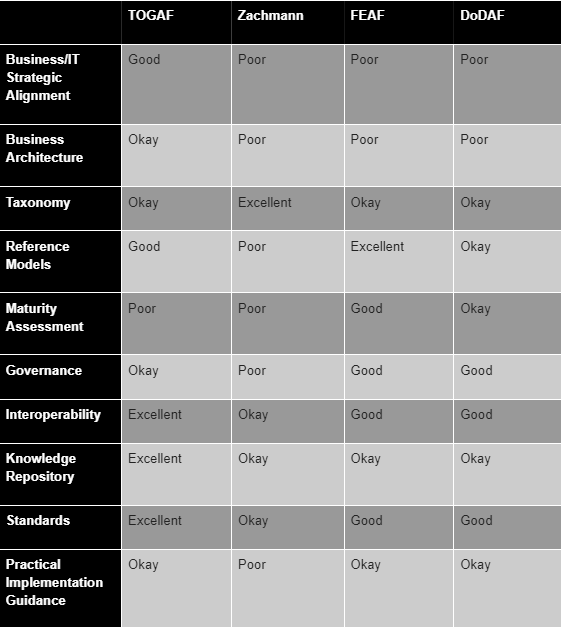 Since TOGAF trumps all other frameworks in terms of interoperability and standards, it is best suited as a guiding EA framework to help dictate the trajectory of growth and accompanying actions through every stage of an enterprise's digital transformation. 
Zachmann pales in comparison to the other leading EAFs in terms of governance and practical implementation. Hence, it is best suited for modeling and orchestration of developmental action points.
DoDAF is well suited for large systems and systems of systems (SoSs) with challenging integration and interoperability problems.
The FEA framework is a leader when it comes to reference models and governance, making it a good framework to help enterprises develop a solid foundation.
In Conclusion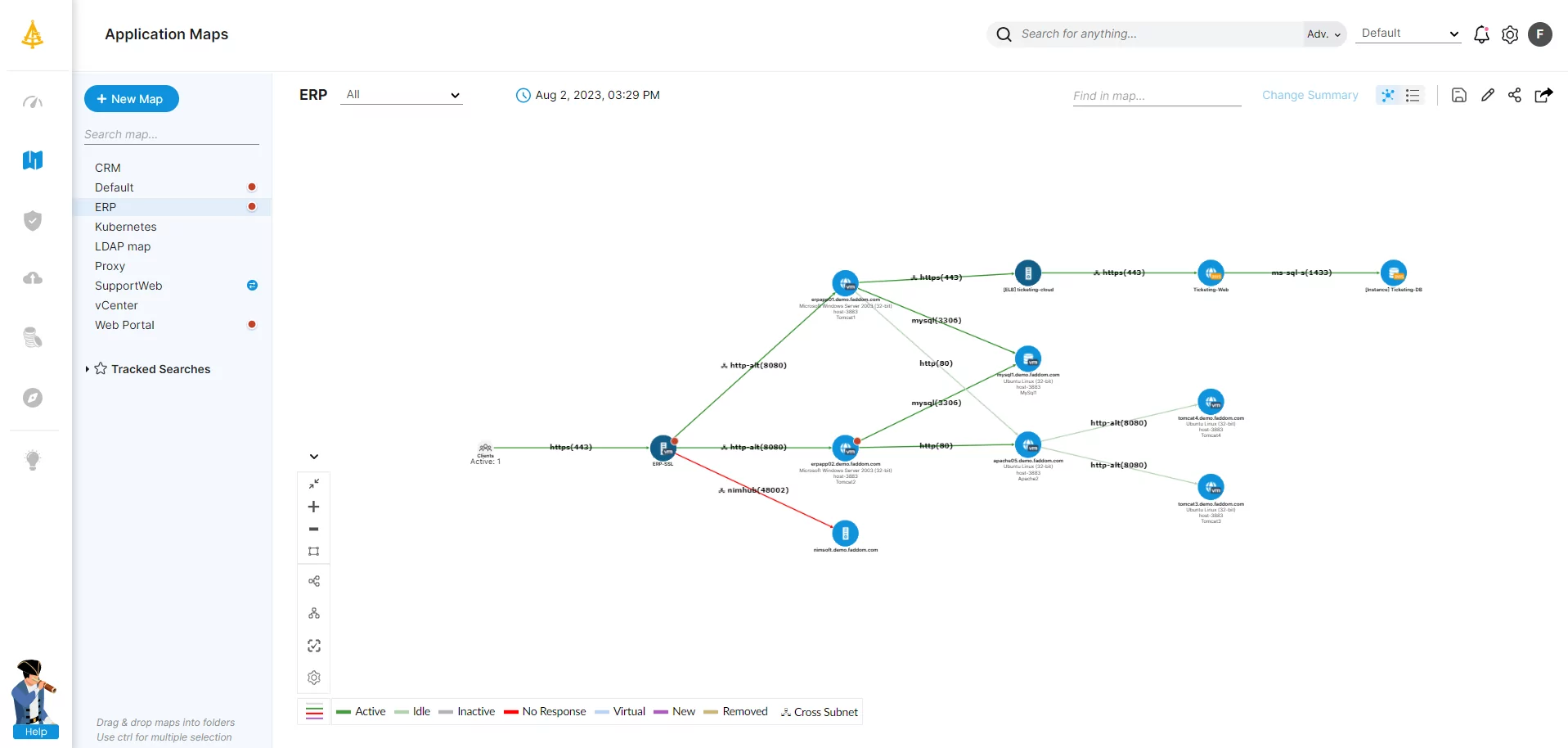 Investment in enterprise architecture is only expected to grow. Organizations of all sizes have come to recognize the importance of EA frameworks for ensuring optimal EA implementation. EA frameworks, therefore, will continue to play an integral role for companies looking to meet EA goals.
Need to gain full visibility into the application layer of your enterprise architecture? Faddom maps all your legacy and modern architecture—from physical to virtual to cloud instances—in as little as one hour. Get started at the right for free.